Daca esti utilizator de Google Chrome si stai foarte mult timp online de pe laptop, acest tutorial te ajuta sa maresti autonomia bateriei pe laptop sau MacBook cu optiunile de optimizare resurse, Battery Saver Mode si High Efficiency Mode in Chrome.
Nu este niciun secret ca fiecare tab deschis in Google Chrome pe laptop, va consuma resurse de memorie RAM si CPU, care contribuie la o autonomie mai scazuta a bateriei si la scaderea performantelor. Acelasi lucru se intampla si pe PC daca ai multe tab-uri deschise in Google Chrome. Mai ales daca acestea contin pagini web incarcate de scripturi si continut multimedia.
Battery Saver Mode si High Efficiency Mode sunt doua optiuni pe care le poti activa pentru a optimiza performantele laptop sau PC. Google Chrome va consuma mai putine resurse din memoria RAM si va lasa mai multe resurse disponibile aplicatiilor si sistemului de operare.
Battery Saver Mode si High Efficiency Mode in Chrome
Iata cum poti activa cele doua moduri. Battery Saver Mode pentru laptop si High Efficiency Mode pentru laptop si PC.
Battery Saver Mode in Chrome – Ce este si cum se activeaza?
Functia Battery Saver Mode va incerca sa optimizeze tab-urile deschise in Google Chrome pentru a economisi cat mai mult bateria laptop-ului. Va dezactiva procesele din background, animatiile pe de paginile web deschise si nu va mai rula automat continutul video.
Battery Saver Mode poate fi activat permanent atunci cand laptop nu este conectat la priza, sau cand nivelul de incarcare al bateriei scade sub 20%.
Activarea Battery Saver Mode se poate face din Chrome → Settings → Performance → Power → Energy Saver.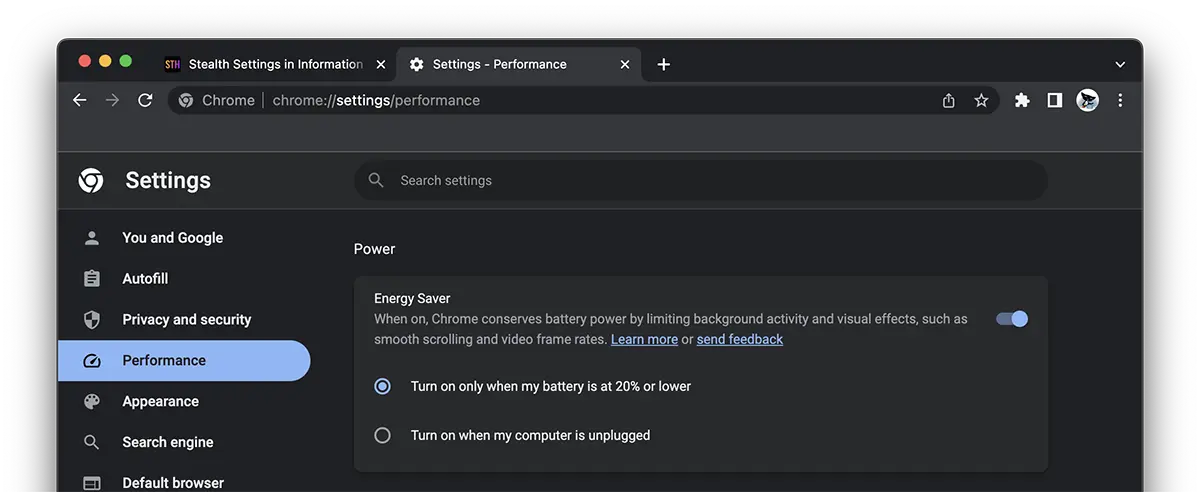 Daca nu gasiti optiunile "Performance" in Google Chrome Settings, copiati adresa de mai jos in browser si activati "Enable the battery saver mode feature in the settings", apoi reveniti in Settings → Performance.
chrome://flags/#battery-saver-mode-available
Odata activat, in bara Google Chrome o sa apara optiunea care indica starea Energy Saver, impreuna cu butonul pentru dezactivare.
Energy Saver este o optiune care va creste simtitor autonomia bateriei laptop-ului atunci cand navigati pe internet.
High Efficiency Mode – Ce este si cum se activeaza in Google Chrome
High Efficiency Mode sau Memory Saver este o optiune de sporire a performantelor atat pentru laptop cat si pentru PC. Odata activata aceasta optiune in Google Chrome, tab-urile deschize vor inceta sa mai ruleze procese in background si vor deveni inctive daca nu sunt deschise un timp.
Dupa redeschiderea tab-ului, acesta va reveni activ.
Aceasta optiune este utila atat pentru PC cat si pentru laptop, fiind o buna metoda de optimizare a performantelor.
Pentru a seta dupa cat timp un tab sa devina inactiv, tastati in bara de adrese a Google Chrome urmatoarea adresa:
chrome://flags/#high-efficiency-mode-available
Atunci cand un tab a devenit inactiv si reveniti il redeschideti, va fi prezenta notificarea "Tab Active Again" in bara de adresa a Google Chrome.
Battery Saver Mode si High Efficiency Mode in Chrome sunt doua optiuni foarte utile atunci cand pe PC rulati ai alte aplicatii pentru care aveti nevoie de toate resursele hardware.