In cazul in care v-ati gasit destul de des in situatia in care trebuia sa accesati rapid un Command Prompt iar sistemul dvs afisa ecranul de logare, cel mai probabil ati fost destul de frustrat de faptul ca a trebuit mai intai sa introduceti credentialele pentru login, apoi sa asteptati ca sistemul sa activeze toate procesele si serviciile necesare pana sa puteti deschide cmd-ul (din Command Prompt puteti lansa orice aplicatie instalata in sistem, sau lansa diverse comenzi, cum ar fi si resetarea parolei de acces, in cazul in care ati uitat-o). Pentru a evita astfel de situatii pe viitor, va recomandam sa folositi CPRU, o utilitate gratuita care inlocuieste butonul default Ease of Acces din Windows Logon, si care permite accesarea mai multor aplicatii si utilitati Windows direct din ecranul de logare al sistemului.
Din pacate insa, instalarea CPRU nu se fae foarte simplu, utilizatorii care doresc sa inlocuiasca Ease of Access cu aceasta utilitate trebuind mai intai sa copieze folderul CPRU (care contine fisiere .bat) in System 32, apoi sa ruleze fisierele bat existente in acesta pentru a inlocui Ease of Access. iar pentru a putea adauga foldere sau fisiere sau pentru a face modificari in System 32, trebuie mai intai sa obtinem permisiuni de owner asupra acestuia. Insa citind instructiunile de mai jos, veti aflla cum puteti instala CPRU, si cum puteti lansa o fereastra Command Prompt direct din Windows Login Screen.
descarcati arhiva CPRU folosind link-ul afisat la sfarsitul acestui articol, apoi extrageti continutul acesteia intr-un folder la indemana
obtineti permisiuni de owner (take ownership) asupra folderului System 32 din C:\Windows, apoi copiati folderul extras din arhiva descarcata in System 32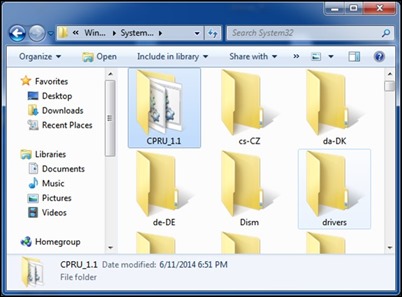 in System 32, deschideti folderul CPRU, apoi dati click-dreapta pe fisierul CPRU_1.1_Enable si selectati Run as administrator
cand este afisat ecranul de mai jos, apasati orice tasta pentru a continua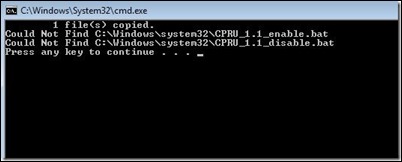 apoi restartati sistemul pentru ca modificarile facute sa aiba efect (si anume inlocuirea Ease of Access din Windows Logon cu utilitatea CPRU)
Si gata. Dupa restart, dati click pe butonul Ease of Access (care a fost inlocuit cu CPRU), si lansati Command Prompt. Succes!
Nota: Compatibil cu Windows XP, Windows Vista, Windows 7 si Windows 8.
STEALTH SETTINGS – How to run Command Prompt from Windows Login Screen
Cum putem accesa Command Prompt din ecranul de logare al Windowsului