Inca dinainte de lansare acestuia, Microsoft a facut clar de inteles ca Windows 8 urma sa fie un sistem de operare dezvoltat pentru touch-screen: interfata metro, cu tile-uri si aplicatii moderne, desi comentata si privita cu scepticism de multi utilizatori, este optimizata perfect pentru dispozitivele touch (tablete sau monitoare cu ecran touch). In cazul in care detineti un astfel de dispozitiv touch, si din diverse motive doriti sa dezactivati touch-screenul (probabil nu v-ati obisnuit cu el, sau poate vi se intampla destul de des sa atingeti ecranul monitorului accidental; sau poate doriti sa atasati un mouse si o tastatura standard tabletei si nu mai aveti nevoie de touchscreen), mai jos gasiti instructiunile despre cum puteti face acest lucru.
Cum putem dezactiva touch-screenul intr-un sistem Windows 8?
Desi in versiunea Windows 8 Developer Preview era inclusa in setarile sistemului si optiunea de dezactivare a touch screen-ului (in Control Panel > More Settings > Hardware and Sound > Pen and Touch > Touch > Use your finger as an input device), in versiunile Release Preview si RTM ale Windows 8 Microsoft a scos aceasta setare, facand destul de greu pentru utilizatori sa poata dezactiva touch screen-ul. Din fericire insa exista si o alta modalitate prin intermediul caruia puteti dezactiva touchscreen-ul in Windows 8.
deschideti Device Manager (tastati device manager in Start Screen) si dati click pe Human Interface Devices
sub Human Interface Devices, dati click-dreapta pe a doua intrare HID-compliant device si selectati Disable din meniul afisat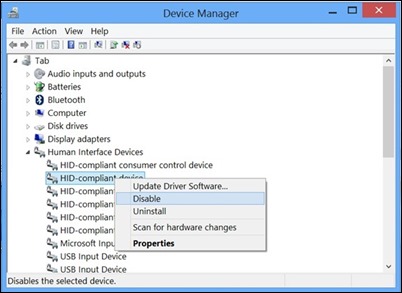 apoi dati click pe Yes pentru confirmare
Si gata. Dupa ce veti face aceasta modificare, touch-screenul computer-ului sau dispozitivului dvs se va comporta ca un ecran normal (fara functionalitate touch). In cazul in care veti dori sa reactivati touch screenul, intrati in Device Manager > Human Interface Devices, apoi dati click-dreapta > Enable pe toate intrarile HID-compliant device.
Nota: Atentie! Nu dezactivati touchscreen-ul unui dispozitiv mobil fara a avea la indemana o tastatura sau un mouse care pot fi conectate la acesta. Altfel nu veti putea activa inapoi ecranul touch (iar dispozitivul va deveni nefunctional pana cand veti putea sa ii reactivati touchscreen-ul).
STEALTH SETTINGS – How to disable touch screen input in Windows 8/8.1
Cum putem dezactiva touch-screenul pentru un computer/dispozitiv care ruleaza Windows 8/8.1