Kaspersky Antivirus si Internet Security sunt unele dintre cele mai bune software-uri pentru securitate disponibile pentru sistemul de operare Windows, acestea protejand milioane de utilizatori de atacurile virusilor, ale trojanilor si ale altor tipuri de malware.
Una dintre conditiile pentru o protectie eficace a computerelor este actualizarea constanta a bazelor de date ale antivirusului, astfel incat Kaspersky sa fie pus la curent cu cele mai noi tipuri de malware aparute. Pentru a indeplini aceasta conditie, Kaspersky actualizeaza automat bazele de date de fiecare data cand un update pentru acestea este disponibil. Insa atunci cand computerul nu este conectat la Internet, antivirusul afiseaza un mesaj ce avertizeaza utilizatorul ca bazele de date sunt invechite (Databases are out of date).
In cazul in care folositi Kaspersky Antivirus si se intampla sa nu aveti computerul conectat la internet cateva ore pe zi (din diferite motive), cel mai probabil primiti destul de des avertizari despre statusul bazelor de date ale antivirusului. In cazul in care afisarea constanta a respectivului mesaj va irita, aveti optiunea sa dezactivati notificarea. Retineti ca dezactivarea notificarii despre statusul bazelor de date nu afecteaza updatarea automata a acestora, actualizarile fiind facute in continuare ori de cate ori conectati computerul la internet.
Cum dezactivam notificarea Databases are out of date in Kaspersky?
deschideti Kaspersky Antivirus (dati dublu-click pe iconita antivirusului din systray)
dati click pe iconita de Setari aflata in coltul dreapta-sus al programului, apoi selectati tab-ul Advanced Settings dand click pe iconita sub forma de cutie aflata in panoul din stanga al ferestrei de setari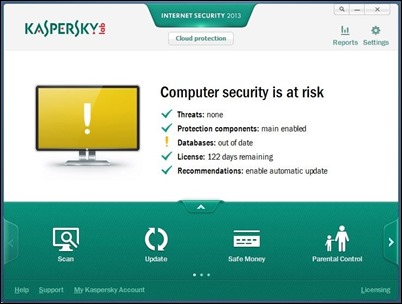 tot in panoul din stanga selectati Notifications
in panoul din dreapta, dati click pe butonul Settings de sub optiunea Notify about the events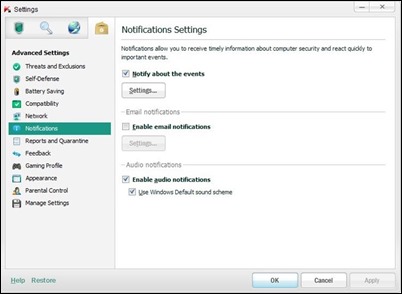 sub Important events, debifati casuta de sub Screen (prima dintre cele 3 fisate) din dreptul Databases are out of date si dati click pe OK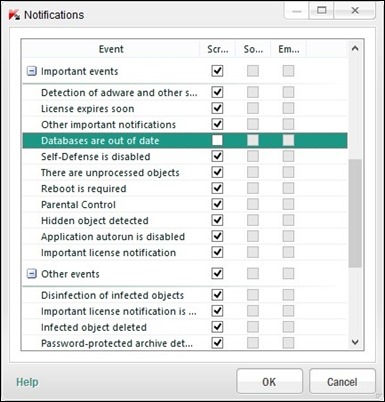 Si gata. De acum inainte Kaspersky nu va mai afisa mesajul de avertizare despre statusul bazelor de tate, in schimb va continua sa actualizeze automat bazele de date de fiecare data cand veti conecta computerul la internet.
STEALTH SETTINGS – How to disable Databases are out of date notification for Kaspersky Antivirus
Cum putem dezactiva notificatia Databases are out of date pentru Kaspersky antivirus