Inca de la lansarea sistemului de operare Windows 8, acesta a fost criticat de majoritatea utilizatorilor din cauza unor feature-uri care fie au fost scoase din sistem (cum ar fi Aero Glass, Start Orb si Start Menu), fie nu au fost implementate in sistem (optiunea de bootare direct in Windows Desktop sau optiunea de Shutdown din Power Menu), fie este necesara folosirea unor aplicatii third-party pentru dezactivarea acestora (Charm bar, hot-corners etc), fie sunt un pic cam inflexibile (Start Screen-ul, oarecum bagat pe gat userilor si cu prea putine posibilitati de customizare). Prin intermediul update-ului Windows 8.1, Microsoft intentioneaza sa rezolve o parte din nemultumirile utilizatorilor (sau sa reduca din critici) si sa imbunatateasca experienta acestora cu Windows 8 (detalii despre feature-urile disponibile in Windows 8.1 Preview gasiti aici).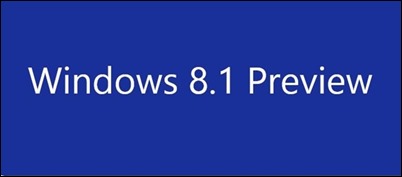 Pentru cei interesati sa testeze Windows 8.1, astazi, in cadrul conferintei BUILD, Microsoft a lansat o versiune Preview a acestuia, care poate fi instalata fie ca upgrade din Windows Store, fie cu ajutorul imaginii ISO de instalare, disponibila (incepand cu data de 27 iunie) pe site-ul Microsoft (astfel incat si utilizatorii Windows XP, Windows Vista si Windows 7 sa poata testa Windows 8.1 Preview).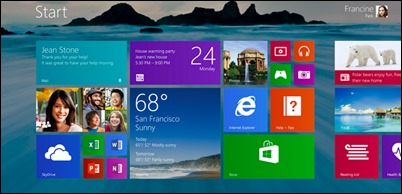 Utilizatorii care aleg sa instaleze Windows 8.1 Preview ca upgrade la Windows 8 trebuie sa tina insa cont de cateva lucruri inainte:
sunt necesari minim 4 GB de spatiu pe partitia de sistem pentru ca upgrade-ul sa poata fi instalat
chiar daca upgrade-ul de la versiunea Windows 8.1 Preview la RTM va fi posibil, utilizatorii vor pierde toate aplicatiile instalate in sistem (clasice sau moderne); in schimb toate datele/fisierele personale vor fi pastrate
update-ul Windows 8.1 Preview nu poate fi dezinstalat (downgrade-ul la Windows 8 nu este posibil, sau cel putin inca nu s-a descoperit cum)
Cum putem face upgrade-ul de la Windows 8 la Windows 8.1 Preview?
Pentru ca upgrade-ul la Windows 8.1 Preview sa poata fi efectuat, utilizatorii vor trebui mai intai sa instaleze un pachet de update-uri obligatorii, disponibil pe site-ul Microsoft.

Download Update Pack (pentru upgrade-ul la Windows 8.1 Preview).
Apoi restartati computerul si dati click pe Go to the Store cand este afisat mesajul Get Windows 8.1 Preview for free (mesajul va fi afisat imadiat dupa bootarea sistemului).
Pe pagina oficiala de download a Windows 8.1 Preview din Windows Store dati click pe butonul Download. Update-ul va fi descarcat apoi instalat pe computer (procesul poate dura ceva timp, deci inarmati-va cu ceva rabdare), fara a fi necesara folosirea unui cod de licenta (product key).
Daca nu doriti sa instalati Windows 8.1 Preview ca update din Windows Store, ci doriti sa faceti o instalare in dual-boot cu Windows 8 (sau cu alt sistem de operare) sau o reinstalare clean, atunci descarcati imaginea ISO de pe site-ul Microsoft.
Download Windows 8.1 Preview ISO.
Dupa ce descarcati imaginea, creati un DVD de instalare sau un USB Stick bootabil, apoi folositi urmatorul cod de licenta in timpul instalarii sistemului:
NTTX3-RV7VB-T7X7F-WQYYY-9Y92F
Note: Cerintele de sistem pentru a putea instala Windows 8.1 Preview sunt urmatoarele: procesor de minim 1 GHz, 1GB RAM pentru 32-biti si 2GB RAM pentru 64-biti, minim 16GB spatiu pe hdd pentru 32-biti si minim 20GB spatiu pentru 64-biti si DirectX 9 cu driver WDDM. Versiunea RTM a Windows 8.1 va fi lansata in luna octombrie a acestui an.
STEALTH SETTINGS – Download & Install Windows 8.1 Preview
Descarca si instaleaza Windows 8.1 Preview