Daca folositi frecvent doua sau mai multe adrese de Gmail, sunteti deja familiarizati cu faptul ca nu puteti sa va logati simultan pe mai multe conturi folosind acelasi browser (cand incercati sa va logati pe un al doilea cont, sunteti delogat instantaneu de pe primul), ci doar deschizand un browser diferit.
You are trying to access Gmail with the following Google Account:
adresa_office@gmail.com

However, you are already signed in as:
adresa_personala@gmail.com

You can either cancel this request, or switch to a new Google Account to access Gmail.
Pentru cei care folosesc doar doua adrese de Gmail, nu este neaparat o problema rularea in paralel a doua browsere (probabil oricum faceti acest lucru chiar si atunci cand nu verificati mailurile), dar daca folositi 3 sau mai multe adrese Gmail, lucrurile se complica (depinde de cate browsere aveti nevoie :D).
Pentru a va putea loga simultan pe mai multe conturi Gmail folosind acelasi browser, logati-va in Gooogle Accounts (folosind oricare dintre conturile dvs), apoi dati click pe Account Settings.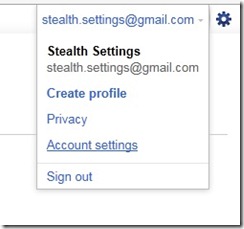 Sub Personal Settings dati click pe Edit in dreptul la Multiple sign-in.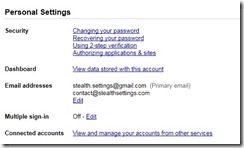 Selectati On – Use multiple Google Accounts in the same web browser, apoi bifati fiecare casuta de sub aceasta optiune pentru confirmare si dati click pe Save.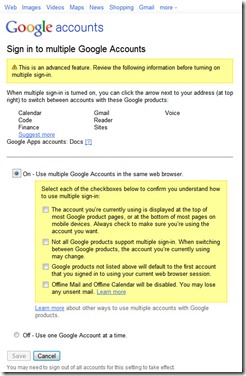 Apoi dati click pe Switch account si veti observa optiunea Sign in to another account. De asemenea aveti si optiunea de a va deloga simultan de pe toate conturile Gmail, indiferent de contul pe care sunteti logat.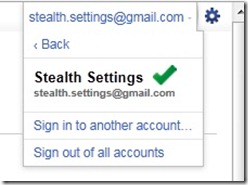 Retineti faptul ca nu toate produsele Google suporta acest feature. Multiple sign-in functioneaza pentru Google Code, Calendar,  Finance,  Gmail,  Profiles,  Reader,  Sites, Voice,  Docs (doar conturile Google Apps ) si Google Web Search.
Nota: Pentru mai multe informatii despre Multiple sign-in, mergeti la Google Accounts Help.
Cum sa ne conectam pe multiple conturi Gmail in acelasi browser