Microsoft a anuntat astazi noul sistem de operare Windows, insa a surprins publicul in ceea ce priveste numele sistemului, acesta fiind Windows 10 si nu Windows 9 cum se astepta toata lumea. Motivul pentru care Microsoft a ales sa sara peste un numar, si a ales numele de Windows 10, nu a fost comentat oficial, insa o explicatie (subtila) a fost data utilizatorilor:
This product, when you see the product in your fullness I think you'll agree with us that it's a more appropriate name. Windows 10 will run across an incredibly broad set of devices – from the Internet of Things, to servers in enterprise datacenters worldwide. Some of these devices have 4 inch screens – some have 80 inch screens – and some don't have screens at all. Some of these devices you hold in your hand, others are ten feet away.
In ceea ce priveste noutatile propriu-zise ale sistemului de operare Windows 10, cele mai importante dintre acestea erau deja cunoscute de public. In primul rand, Microsoft a tinut cont de feedback-ul utilizatorilor de desktop-uri (sau mai exact nemultumirea acestora in legatura cu interfata moderna a Windows 8) si a reinventat o interfata clasica pentru acestia. De asemenea, un lucru foarte important (si deja anuntat de cateva luni), Windows 10 va fi un sistem universal, compatibil cu toate dispozitivele Windows, acelasi lucru fiind valabil si pentru Windows Store (magazin universal pentru aplicatii Windows, iar aplicatiile scrise pentru PC-uri vor fi compatibile si cu dispozitivele mobile ce vor rula sistemul Windows).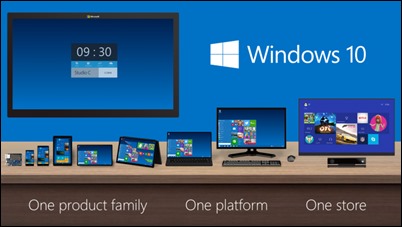 Dintre feature-urile cele mai importante ale Windows 10, in prezentarea oferita de Microsoft au fost confirmate urmatoarele:
1. Reintroducerea Start Menu – cea mai mare nemultumire a utilizatorilor la lansarea sistemului de operare Windows 8 a fost scoaterea meniului de Start si inlocuirea acestuia cu Start Screen-ul. In Windows 10, Microsoft reintroduce meniul de Start, acesta fiind disponibil in locul Start Screen-ului pentru utilizatorii de desktop-uri (utilizatorii de dispozitive mobile touch, ex. tablete, vor folosi in continuare Start Screen-ul pentru lansarea de aplicatii). Noul Start Menu va putea fi redimensionat si customizat dupa preferintele utilizatorilor, si va permite fixarea (pin) de tile-uri pentru aplicatiile moderne.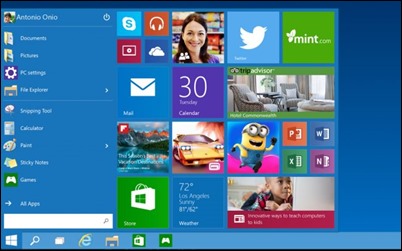 2. Aplicatiile moderne (instalate din Windows Store) vor putea fi rulate in ferestre (nu doar full screen sau in modul snap, cum este cazul in Windows 8/8.1). Acestea vor putea fi rulate direct pe desktop, la fel ca aplicatiile clasice (pe tablete insa vor rula in continuare in full screen), utilizatorii putend rula mai multe astfel de aplicatii in acelasi timp si putand schimba intre ele folosind Taskbar-ul.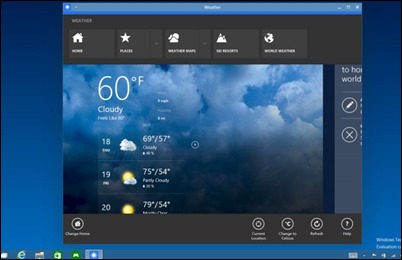 3. Un Task Switcher imbunatatit – pentru a simplifica schimbarea intre aplicatii (in sistemele anterioare utilizatorii foloseau Alt+Tab), Microsoft a inclus un buton de acces rapid pe Taskbar care deschide un Task Switcher.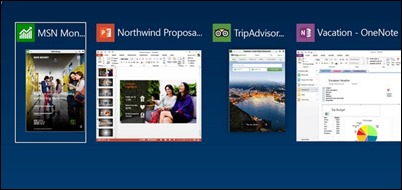 4. Desktop-uri Virtuale – un alt feature important, pe care utilizatorii Windows il asteptau de ceva vreme. Desi acestia puteau activa desktop-urile multiple cu ajutorul aplicatiilor third-party, Microsoft a inclus acest feature in mod default in Windows 10, simplificand crearea de desktop-uri diferite pentru a evita aglomerarea si pentru a organiza spatiul de lucru dupa preferinte.

Dupa spusele Microsoft, versiunea finala a Windows 10 va fi lansata undeva pe la mijlocul anului 2015, insa zilele urmatoare va fi facuta disponibila publicului (prin intermediul programului Windows Insider) versiunea Technical Preview a acestui sistem de operare:
Windows 10 Technical Preview (via Windows Insider).
Pentru mai multe detalii despre Windows 10, urmariti demo-ul de prezentare:
Update: O alta noutate, destul de minora, dar foarte importanta pentru utilizatorii care folosesc Command Prompt-ul in mod obisnuit este faptul ca si aceasta utilitate de sistem a fost updatata la o versiune noua care permite folosirea combinatiei de taste Ctrl + V pentru a da Paste in fereastra de comanda (lucru imposibil pana in prezent).
STEALTH SETTINGS – Microsoft announces the next Windows system, named (surprise) Windows 10
Microsoft a anuntat viitorul sistem de operare Windows, numit (surpriza) Windows 10