Fie ca este vorba de USB Stick-uri, de hard-diskuri externe, de imprimante USB sau de orice alte dispozitive cu conectare prin USB la computer, foarte multi utilizatori Windows se confrunta uneori cu probleme la conectarea sau deconectarea acestora (de exemplu erori cand se incearca deconectarea dispozitivelor USB prin intermediul Safely Remove Hardware).
Pentru a rezolva problemele Windows relationate cu dispozitivele USB, Microsoft a lansat in urma cu cateva zile un nou tool Fix It, disponibil gratuit tuturor utilizatorilor.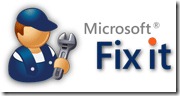 USB Fix It detecteaza si corecteaza automat urmatoarele probleme:
dispozitiv USB nerecunoscut (aceasta problema poate aparea din cauza filtrelor upper si lower folosite de registri, care ar putea fi corupte)
imprimanta USB care nu printeaza (problema aparuta de obicei cand esueaza o comanda de printare. In acest caz, cel mai probabil nu veti putea deconecta imprimanta USB prin intermediul Windowsului)
dispozitiv de stocare USB care nu poate fi deconectat (Windowsul afiseaza mesajul "Windows can't stop your Generic volume device because a program is still using it. Close any programs that might be using the device, and then try again later." atunci cand incercam sa deconectam dispozitivul USB prin intermediul Safely Remove Hardware. Cea mai comuna cauza este configurarea Windows Update sa nu faca update-uri pentru drivere, adica driverele nu sunt updatate automat si e posibil ca acestea sa fie invechite).
Nota: Microsoft Fix It Tool pt USB nu rezolva problemele cu dispozitivele USB virusate sau defecte, ci doar problemele Windows relationate cu aceste dispozitive.
STEALTH SETTINGS – Microsoft released Fix It Tool for USB related issues in Windows
Microsoft a lansat Fix It pentru rezolvarea problemelor cu conectarea prin USB in Windows