In momentul de fata (si de ceva ani buni) utilizatorii din USA dispun de o serie de servicii streaming care, din pacate, nu sunt disponibile decat pe teritoriul respectivului continent. In topul celor mai "ravnite" astfel de servicii de catre locuitorii altor tari se afla Hulu, Netflix, CBS, Vevo si NBC (desi sunt destui doritori si pentru alte canale, cum ar fi MTV, VH1, ABC sau Discovery). Pentru acestia avem insa o veste buna: Tunlr este un serviciu online gratuit care le permite utilizatorilor din afara US sa acceseze si sa vizioneze continutul site-urilor enumerate mai sus.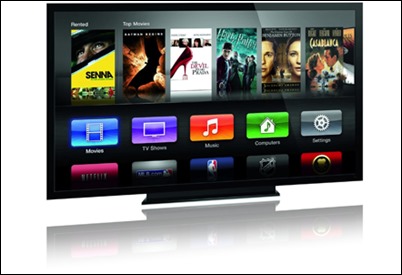 Tunlr nu necesita instalare sau creare de cont si este foarte simplu de setat (serviciul se bazeaza pe setarile DNS), nu are limita de folosire si are o politica stricta care nu permite afisarea de reclame. De asemenea, streamingul se face la calitatea HD (continutul media nu este furnizat prin retele intermediare, ceea ce face ca singura limita sa fie viteza conexiunii la internet furnizata de providerii utilizatorilor).
Cum se foloseste Tunlr?
Pentru a putea folosi serviciul Tunlr, singura setare pe care trebuie s-o faceti este sa modificati adresele DNS ale computerului sau dispozitivului mobil de pe care doriti sa accesati acest serviciu. In functie de sistemul de operare folosit, urmati instructiunile de mai jos:
Windows 7/8 – deschideti Control Panel si navigati catre Network and Internet > Network Connections > Change adaptor settings. Dati click dreapta pe conexiunea folosita si selectati Properties, apoi, in tab-ul Networking selectati Internet Protocol Version 4 (TCP/IPv4) si dati click pe butonul Properties. In dialogul afisat selectati Use the following DNS server addresses si introduceti adresa 192.95.16.109 pentru primary/preferred DNS server si adresa 142.54.177.158 pentru secondary/alternate DNS server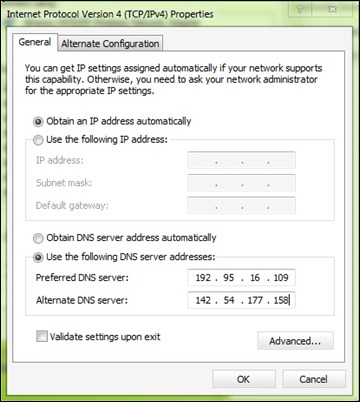 Linux – ca utilizator root, editati fisierul /etc/resolv.conf folosind comanda sudo nano /etc/resolv.conf. Apoi stergeti toate intrarile de nameserver existente (sau adaugati un # in fata acestora) si adaugati urmatoarele: nameserver 192.95.16.109 si nameserver 142.54.177.158, dupa care salvati fisierul (Ctrl + X). Pentru a preveni resetarea acestuia, folositi comanda sudo chattr +i /etc/resolv.conf, iar cand veti dori sa modificati din nou fisierul folositi comanda sudo chattr –i /etc/resolv.conf
Mac OSX – deschideti System Preferences > Network, selectati reteaua folosita din lista afisata si dati click pe butonul Advanced (dreapta-jos). Selectati tab-ul DNS, dati click pe butonul + din stanga-jos si adaugati adresele DNS ale Tunlr (192.95.16.109 si 142.54.177.158). Apoi trageti (click & drag) adresele DNS adaugate in partea de sus (top) a listei si dati click pe OK
iPhone sau iPad – in Settings selectati General > Network > WiFi, apoi dati tap pe butonul albastru afisat in dreapta retelei WiFi folosite. Selectati DNS si modificati adresele DNS cu urmatoarele 192.95.16.109 si 142.54.177.158 (inainte de a modifica adresele DNS notati-le pe cele originale pentru a putea reveni la acestea cand veti dori). Apoi dati tap pe butonul Back si apasati butonul Home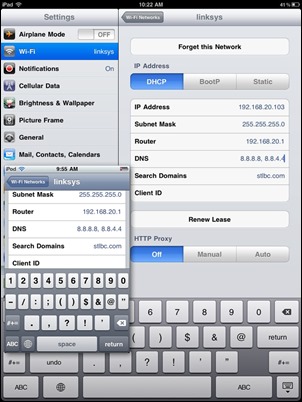 Android – deschideti Settings si dati tap pe WiFi (pe text, nu pe butonul de pornire/oprire) si tineti apasat pe reteaua folosita pana este afisat dialogul de setari. Dati tap pe Modify si bifati Show advanced options. Sub IP settings selectati Static, apoi introduceti adresa 192.95.16.109 sub DNS 1 si 142.54.177.158 sub DNS 2, dupa care dati tap pe Save
Pentru ca modificarile facute sa aiba afect, restartati computerul sau dispozitivul mobil folosit. Apoi vizitati pagina Tunlr status check pentru a verifica daca servicul Tunlr a fost activat. Enjoy!
STEALTH SETTINGS – How to watch streaming services like Hulu, Netflix and Vevo outside US
Cum putem viziona servicii streaming cum ar fi Hulu, Netflix si Vevo in afara USA