Pentru evitarea erorilor de functionare a sistemelor de operare Windows, incepand cu Windows Vista fisierele de sistem sunt protejate cu ajutorul WFP (Windows File Protection), astfel incat userii sau aplicatiile instalate de acestia sa nu poata modifica aceste fisiere. Protectia WFP consta in setarea unui ACL (Access Control List) care permite doar userului TrustedInstaller sa modifice permisiunile fisierelor protejate, adica nici userii din grupul Administrators si nici sistemul nu poate aduce modificari acestora in mod implicit. De aceea, utilizatorii care doresc sa aduca modificari sistemului de operare ce necesita permisiuni asupra fisierelor protejate, trebuie mai intai sa preia controlul asupra respectivelor fisiere (take ownership). Deoarece acordarea de permisiuni asupra fisierelor de sistem prin schimbarea owner-ului le face pe acestea sa devina vulnerabile in fata pericolelor reprezentate de hackeri si/sau virusi, se recomanda ca dupa ce terminam orice operatiune care necesita permisiuni asupra respectivelor fisiere, sa restauram TrustedInstaller ca owner al acestora.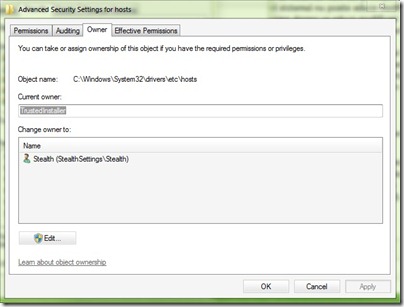 Cum putem restaura TrustedInstaller ca owner al fiserelor de sistem In Windows Vista si Windows 7*
Atentie! Inainte de a restaura TrustedInstaller ca owner al unui fisier de sistem, restaurati permisiunile implicite/initiale ale acestuia (sau cel putin modificati permisiunile pentru userul cu care ati preluat controlul asupra respectivului fisier din Full Control in Read & Execute).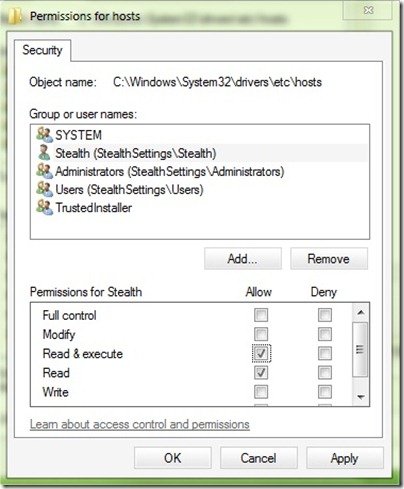 identificati fisierul de sistem (folder, registru etc) asupra caruia v-ati acordat permisiuni de owner, dati click dreapta pe acesta si selectati Properties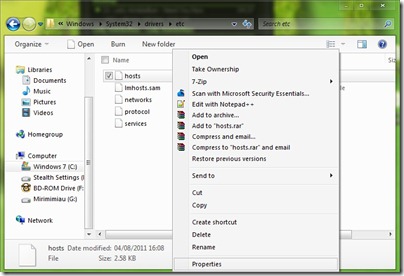 selectati tab-ul Security si dati click pe butonul Advanced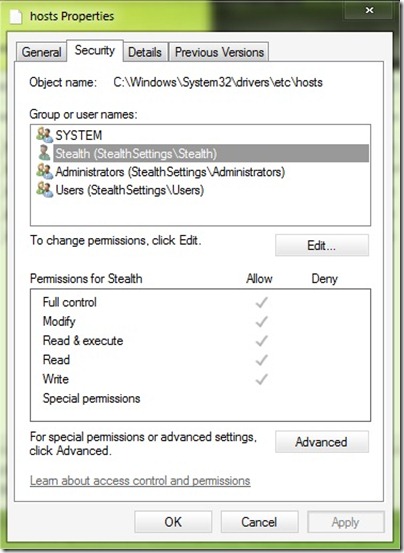 dati click pe tab-ul Owner apoi dati click pe butonul Edit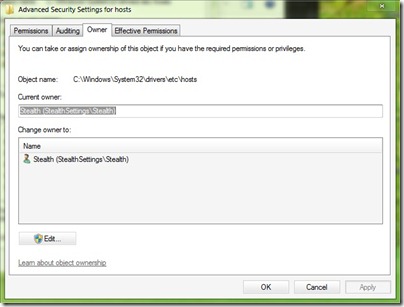 daca TrustedInstaller nu se afla printre userii care pot fi selectati ca owner, dati click pe Other users or groups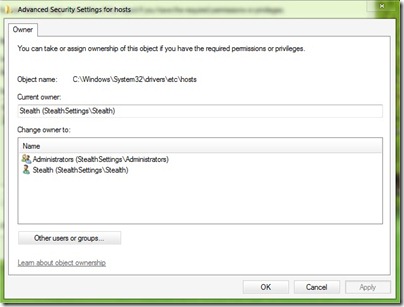 tastati NT SERVICE\TrustedInstaller in campul de sub Enter the object name to select apoi dati click pe Check Names > OK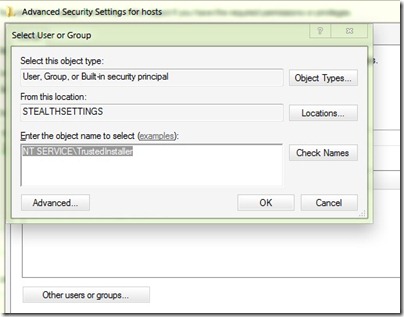 selectati TrustedInstaller dintre userii afisati sub Change owner to, apoi dati click pe Apply si OK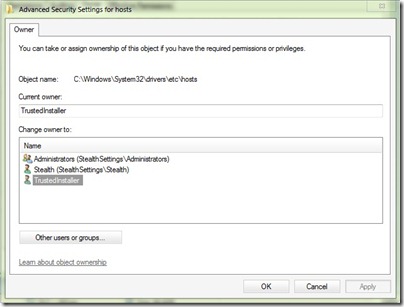 Si gata. Owner-ul fisierului de sistem este din nou TrustedInstaller.
Daca aveti mai multe fisiere de sistem asupra carora ati preluat controlul cu take ownership si carora le-ati modificat permisiunile, urmati instructiunile de mai sus pentru fiecare dintre acestea. In cazul in care doriti sa modificati ownerul unui folder de sistem si a tuturor fisierelor aflate in acesta, inainte de a modifica ownerul asigurati-va ca ati bifat optiunea Replace owner on subcontainers and objects.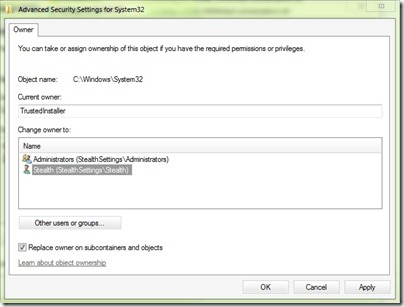 Nota: Nu toate fisierele au ca owner default user-ul TrustedInstaller, de aceea nu se recomanda setarea acestuia ca owner al oricarui tip de fisier, altfel nu veti mai putea modifica fisierele respective decat dupa ce veti prelua din nou controlul asupra acestora cu take ownership.
*Tutorial valabil doar pentru Windows Vista, Server 2003, Windows 7 si Server 2008
STEALTH SETTINGS – How to restore TrustedInstaller as Owner of system files in Windows
Cum sa restauram TrustedInstaller ca Owner al fisierelor de sistem in Windows