Vi si nano sunt edtoare text pentru Linux. Fie ca vorbim de Ubuntu sau de RedHat, CentOS, aceste editoare sunt vitale cand vine vorba sa modificam un script, un crontab sau oricare alt fisier prezent pe sistemul de operare Linux. Vi si nano sunt un fel de Notepad pentru Linux, cu diferenta ca ele nu au o interfata grafica. Se deschid direct prin linie de comanda si se editeaza cu ajutorul lor in terminal /  consola sau autentificati pe Linux printr-un client cu suport SSH, gen Putty sau OS X Terminal.
Pentru multi utilizatori, Vi este ceva mai complicat, avand un set de comenzi de editare care se bazeaza mai multe pe tastarea efectiva a comenzilor decat pe shortcut-uri, asa cum este la nano. De extemplu, daca dorim sa inchidem un fisier deschis cu "vi", trebuie sa tastam comanda: ":quit!" sau mai scurt ":q!", in timp ce la "nano" este de ajuns combinatia de taste "Ctrl+X". Din acest punct de vedere, nano este ceva mai apropiat de Windows si de interfata OS X.
Daca aveti instalat un sistem de operare Linux, pe care este setat "vi" text editor default, atunci va trebui sa urmati cativa pasi pentru a schimba editorul text deault din "vi" in "nano".
Cum schimbam text editorul default "vi" in "nano" pe CentOS
In primul rand asigurati-va ca aveti editorul "nano" instalat pe sistem. Va autentificati pe sistem si in terminal executati comanda:
yum install nano
Daca este deja instalat o sa primiti la final mesajul ca ultima versiune este deja instalata pe sistemul dvs.
Ex. Package nano-2.0.9-7.el6.x86_64 already installed and latest version / Nothing to do
Dupa ce a fost instalat "nano", folositi acest program pentru a edita fisierul: "/etc/bashrc"
nano /etc/bashrc
In fisierul /etc/bashrc adaugati la final linia "export EDITOR="nano""
export EDITOR="nano"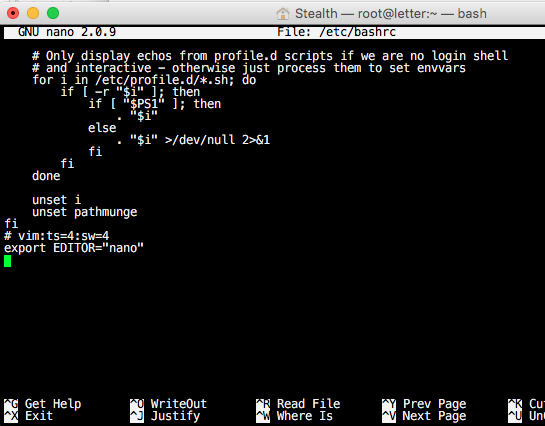 Ctrl + X (y) si salvati modificarile. Va delogati de pe sistem si va logati inapoi pentru a testa daca editorul text default a fost schimbat.
Acest tutorial este util in special pentru comenzile de editare care executa fara a specifica ce editor se va folosi pentru fisierul respectiv. Cel mai bun exemplu este editarea crontab-urilor, care se face prin comanda: crontab -e. Executand aceasta comanda, se va deschide fisierul cron job-urilor in editorul setat default pe sistem.
In scenariul in care editorul vi este setat default pe sistem si nu doriti sa-l schimbati, insa fisierul crontab doriti sa-l deschideti cu nano, atunci executati in terminal urmatoarea comanda:
env EDITOR=nano crontab -e
Fiserul crontab se va deschide automat si va putea fi editat cu nano pentru sesiunea curenta.
Change Linux default text editor software via command line – Linux Tutorials & Tips.
Cum setam NANO editor default pe Linux sau cum schimbam editorul din Vi in NANO