Dintre toate tipurile de malware existente pe Internet, rootkit-urile si-au castigat pe buna dreptate un loc printre cele mai temute, si asta pentru ca rootkit-urile sunt folosite pentru a ascunde softurile periculoase, cum ar fi virusii, trojanii, programele spyware si backdoors, de antivirusul instalat in sistem. Mai exact, un virus combinat cu un rootkit produce ceea ce internautii numesc un virus full stealth (sau undercover), iar de cele mai multe ori nu poate fi detectat de antivirusii obisnuiti.
Bitdefender Antivirus tocmai ce a lansat un nou tool anti-malware, acesta fiind creat special pentru a ajuta utilizatorii Windows sa se fereasca de rootkit-uri, si anume Bitdefender Rootkit Remover. Utilitatea este portabila (nu necesita instalare) si poate fi lansata fara a fi necesara bootarea in Safe Mode si, ce e mai important, poate identifica si sterge din sistem toate rootkit-urile cunoscute (iar baza de date este updatata de fiecare data cand sunt descoperite noi rootkit-uri).
BitDefender Rootkit Remover helps remove Mebroot, all TDL families (TDL/SST/Pihar), Mayachok, Mybios, Plite, XPaj, Whistler, Alipop, Cpd, Fengd, Fips, Guntior, MBR Locker, Mebratix, Niwa, Ponreb, Ramnit, Stoned, Yoddos, Yurn, Zegost and also cleans infections with Necurs. But the tool will be updated as and when new rootkits are found.
Cum functioneaza Bitdefender Rootkit Remover?
Dupa ce lansati aplicatia, dati click pe butonul Start Scan. Scanare va dura doar cateva secunde, si indiferent daca utilitatea depisteaza sau nu rootkit-uri in sistem, va fi afisat un mesaj care va anunta ca procesul de indepartare al rootkit-urilor a fost completat cu succes.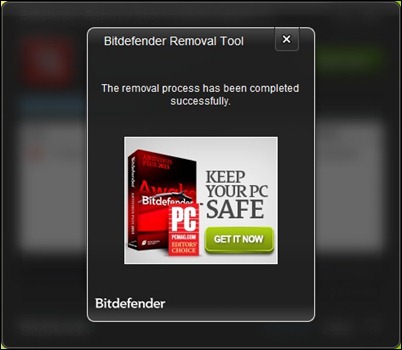 Si cam asta este tot. Bitdefender Rootkit Remover este un tool nu foarte complicat, care isi face bine treaba pentru care a fost creat, si care le ofera utilizatorilor Windows o mana de ajutor in ceea ce priveste indepartarea programelor malware din sistem. Dupa folosirea Bitdefender Rootkit Remover, se recomanda efectuarea si unei scanari complete a sistemului (cel putin din cand in cand) cu antivirusul instalat pentru a identifica si sterge eventuali virusi care se ascundeau in spatele rootkit-urilor.
Download Bitdefender Rootkit Remover.
Nota: Tool compatibil cu toate versiunile de Windows, 32 si 64-biti.
STEALTH SETTINGS – Download Bitdefender Rootkit Remover for Windows
Descarca Bitdefender Rootkit Remover pentru Windows