1. Despartirea in silabe:
Implicit, un cuvant care nu incape pe randul curent va fi automat trecut pe randul urmator (aceasta faciliate se numeste Word Wrap). Pentru a evita acest lucru, se poate cere despartirea in silabe la capatul randului cu ajutorul opţiunii Tools – Language – Hyphenation, in a carei fereastra de dialog se activeaza optiunea Automatically Hyphenate Document.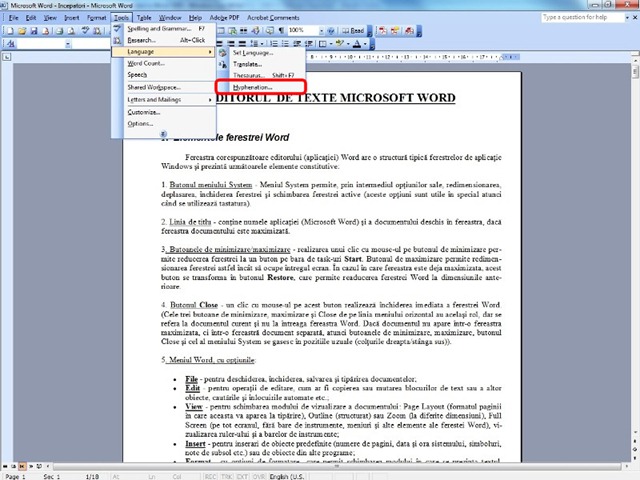 Daca nu se doreste despartirea cuvintelor scrise cu majuscule, se inactiveaza comutatorul Hyphenate Words in CAPS. Zona de despartire in silabe (Hypenation Zone) specifica distanta fata de marginea din dreapta de unde se va incerca despartirea in silabe iar numarul maxim de linii consecutive in care sa se realizeze despartirea se precizeaza cu una dintre optiunile casetei Limit Consecutive Hyphens To.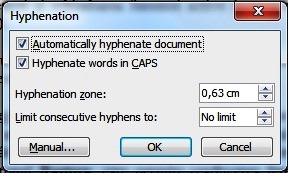 Daca despartirea automata nu este convenabila, se poate opta pentru cea manuala (cu ajutorul butonului Manual), in acest caz se va introduce cratima in pozitia dorita.
2. Sectionarea unui document
Sectiunile sunt zone din document cu anumite caracteristici de formatare, care le evidentiaza continutul.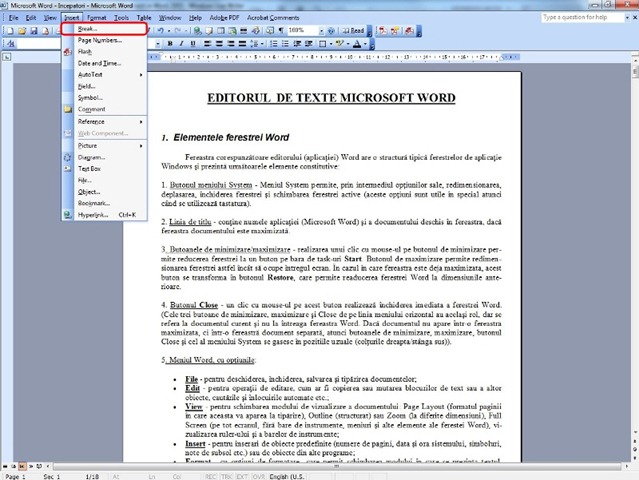 Un document poate avea mai multe sectiuni, fiecare cu propriile margini, antete/subsoluri, stiluri de numerotare. Ele se pot defini folosind comanda Insert – Break, prin inserarea unui delimitator de sectiune pe pagina urmatoare (Next Page), în poziţia curentă (Continuous), pe urmatoarea pagina cu numar par (Even Page) sau pe urmatoarea pagina cu numar impar (Odd Page).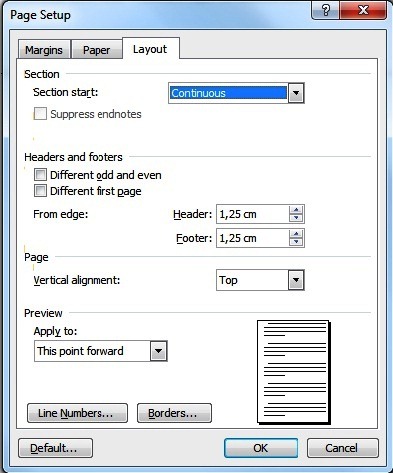 Odata definita o sectiune, se poate modifica aranjarea in pagina doar in cadrul ei, alegand optiunea This section din caseta Apply To a paginii Layout (File – Page Setup).
Sfarsitul de sectiune este simbolizat printr-o linie intrerupta care contine textul End of Section (in modul de afisare Normal); stergerea acestei linii va conduce la alipirea celor doua sectiuni, pastrandu-se caracteristicile celei de a doua.
Cu Insert-Break se mai pot introduce marcaje de sfarsit de pagina