Exista numeroase situatii in care utilizatorul este interesat de gasirea aparitiilor unui anumit cuvant sau a unei succesiuni de caractere si eventual de inlocuirea lor cu un alt cuvant sau succesiune de caractere. Comanda Find a meniului Edit permite cautarea unui anumit text specificat de catre utilizator si pozitionarea cursorului de editare pe acel text, in cadrul documentului.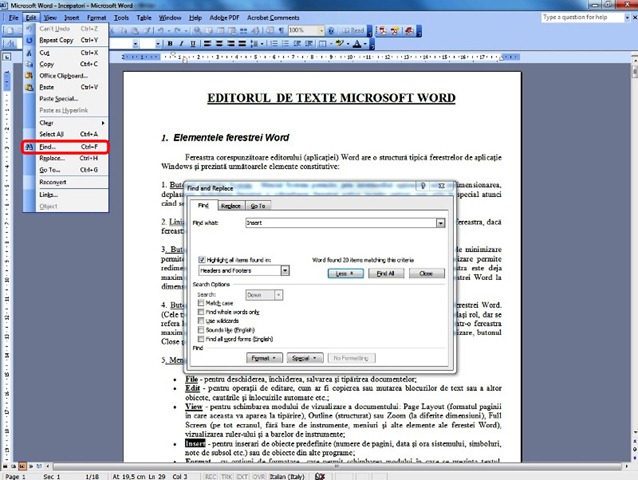 In urma lansarii in executie a acestei comenzi se va afisa fereastra de dialog Find and Replace: Semnificatia campurilor ferestrei Find and Replace:
campul Find What – permite specificarea textului care urmează a fi cautat;
butonul Find Next – cautarea urmatoarei aparitii in document a textului specificat;
butonul More – extinderea ferestrei de dialog prin adaugarea urmatoarelor campuri:
Search – specificarea portiunii din document (domeniului) in care se va cauta textul introdus in campul Find What: All (intregul document), Up (din poziţia cursorului de inserare catre inceputul documentului), Down (din pozitia cursorului pana la sfarsitul documentului);
comutatorul Match Case – daca se realizeaza sau nu diferentierea intre literele mari si mici;
comutatorul Find Whole Words Only – se caută doar cuvintele intregi fara sa se ia in considerare cuvintele care contin textul in interiorul lor;
comutatorul Use Wildcards – utilizarea de caractere cu semnificatii speciale in cautare;
comutatorul Sounds Like – se cauta toate sirurile de caractere similare (din punct de vedere fonetic) cu cel specificat in campul Find What. Foloseste lexicul limbii engleze, deci nu se recomanda pentru textele în limba romana;
lista Format – se poate specifica formatul fontului si/sau paragrafelor dupa care sa se realizeze cautarea;
lista Special – permite cautarea unor caractere speciale (care vor fi introduse in campul Find What: caracter de sfarsit de paragraf, TAB etc.) sau a altor elemente (note de subsol, de sfarsit etc.).
activand bifa Highlight all items found in – cuvintele cautate vor fi scoase in evidenta.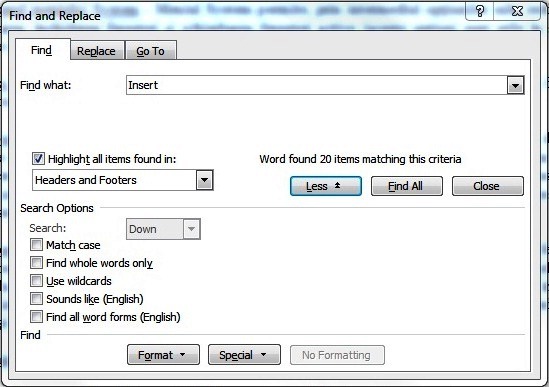 Selectarea paginii Replace conduce la lansarea In executie a funcţiei Replace, cu retinerea informatiilor specificate in fereastra de dialog Find and Replace. Functia Replace se poate activa si independent, prin intermediul comenzii cu acelasi nume din meniul Edit si este foarte asemanatoare cu functia Find. Diferenta consta in faptul ca dupa gasirea textului cautat acesta poate fi inlocuit automat cu un text specificat in campul Replace With al ferestrei de dialog Find and Replace. Inlocuirea se poate realiza pentru aparitia curenta (butonul Replace) sau pentru toate aparitiile din document (butonul Replace All). Aparitia curenta se poate ignora cu butonul Find Next, iar intreaga operatie se poate anula cu butonul Cancel sau prin inchiderea ferestrei de dialog Find and Replace.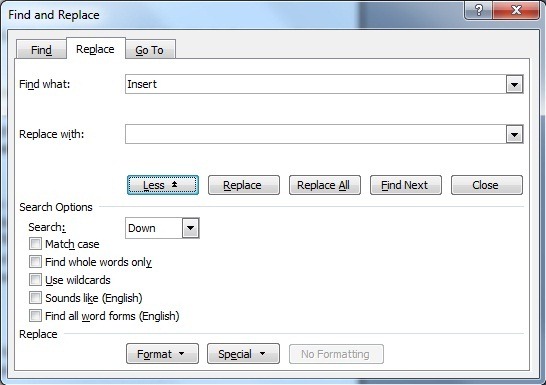 Selectarea paginii Go To din fereastra de dialog Find and Replace sau lansarea in executie a comenzii cu acelasi nume din cadrul meniului Edit asigura deplasarea automata a cursorului in cadrul documentului pe pozitii specificate printr-un numar de pagina, sectiune sau linie, semn de carte sau comentariu, nota de antet sau subsol, la un tabel, grafic, ecuatie sau alt obiect. Un semn de carte permite utilizatorului regasirea rapida a anumitor portiuni de text. Inserarea unui semn de carte se realizează prin intermediul comenzii Bookmark a meniului Insert. după introducerea numelui semnului de carte (Bookmark Name), se va actiona butonul Add All ferestrei de dialog Bookmark. Butonul Delete al aceleiasi ferestre permite stergerea unui semn de carte selectat. Semnele de carte pot fi sortate dupa nume sau după poziţia lor in text in functie de validarea campului Sort By din fereastra de dialog Bookmark. Un comentariu poate fi introdus in poziţia curenta a cursorului de inserare prin alegerea optiunii Comment din meniul Insert. In partea inferioara a ferestrei document se deschide o fereastra care permite editarea textului comentariului, modificarea numelui comentariului (el primeste un nume implicit), introducerea unui comentariu sonor (butonul Insert Sound Object) si specificarea celui care a realizat comentariul (lista ascunsa Comments from).