The program can't start because MSVCR120.dll is missing from your computer. Try reinstalling the program to fix this problem.
In cazul nostru este vorba despre executabilul de la nVIDIA (NVIDIA Web Helper.exe System Error), care dupa fiecare pornire a Windows PC, deschide o casuta de avertizare cu mesajul de mai sus.
Intrucat nu este vorba despre un proces care sa ne intereseze prea mult daca ruleaza sau nu pe sistem, un simplu "OK" in casuta de dialog este de ajuns ca sa "rezolvam problema".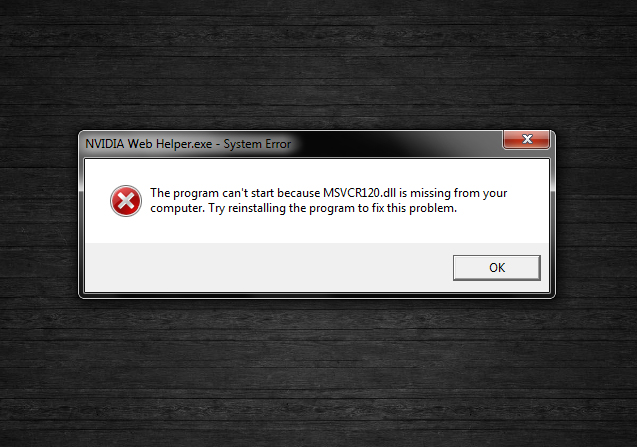 In trecut scriam despre o eroare similiara cauzata de lipsa aparenta a unei librarii .DLL, la lansarea aplicatiei Adobe Photoshop. Rezolvare eroare: MSVCRT10.DLL is Missing [Photoshop CS4]
Inainte sa vedem cum putem rezolva aceasta eroare, sa vedem putin ce inseamna acest fisier MSVCR120.dll, de unde vine si ce face.
La fel ca toate fisierele .DLL, MSVCR120.dll este o librarie ce contine functii, componente sau resurse, ce pot fi folosite atat de sistemul de operare cat si de aplicatiile instalate in efectuarea unor operatiuni. Cand acest fisier lipseste sau a suportat modificari suspecte in urma virusarii sistemului de operare, buna functionare a unei aplicatii care-i foloseste functiile, va avea de suferit.
MSVCR120.dll apartine Visual C++ Redistributable Packages pentru Visual Studio 2013. Daca acesta lipseste, executabilele care au nevoie de o componenta a pachetului, vor returna la lansare eroarea: "MSVCR120.dll is missing from your computer".
Rezolvarea problemei se poate foarte simplu, in doua moduri.
1. Reinstalare Visual C++ Redistributable Packages. Cand MSVCR120.dll lipseste, este semn ca in timpul instalarii pachetului, ceva nu a mers asa cum ar fi trebuit si lipsesc librarii.
Download Visual C++ Redistributable Packages for Visual Studio 2013 From Microsoft
Dupa instalarea pachetului, restartati calculatorul si totul ar trebui sa revina la normal.
2. Daca nu doriti sa faceti reinstalarea Visual C++ Redistributable Packages pentru VS2013, puteti incerca prin copierea unui fisier MSVCR120.dll dintr-un alt sistem Windows, pe sistemul in care acest fisier lipseste. Nu este o metoda recomandata, dar rezolva problema.
Este bine sa stiti ca MSVCR120.dll este disponibil la download pe foarte multe website-uri, insa de cele mai multe ori, pe langa pachetul original, in acest fisier mai sunt si introduse alte componente pe care nu ati vrea sa le aveti instalate pe sistemul de operare.
Cel mai indicat ar fi sa copiati MSVCR120.dll de pe un Windows PC care este safe sau de pe un website de incredere.
MSVCR120.dll este prezent pe toate sistemele de operare Windows Microsoft 7 / Windows 10.