Foarte multi utilizatori noi ai Yahoo au probleme atunci cand vine vorba de alegerea ID-ului, si asta din cauza ca de obicei primele optiuni pentru numele de user sunt deja folosite de alti utilizatori. Astfel multi utilizatori ajung sa foloseasca ID-uri sugerate chiar de Yahoo, acestea fiind de obicei asemanatoare cu primele optiuni ale userilor, insa cu ceva adaugiri de care acestia ar fi preferat sa se lipseasca. Cum insa multe ID-uri Yahoo inregistrate in ultima decada sunt inactive de o buna bucata de vreme (utilizatorii care le-au inregistrat nu au mai folosit aceste ID-uri de cel putin 1 sau 2 ani), Yahoo s-a gandit sa deschida un Wish List care le va permite utilizatorilor activi (sau noi) sa se inregistreze (intr-un fel aceasta operatiune se aseamana cu statul la coada) pentru a reclama ID-urile inactive, acestia avand astfel o mica sansa sa obtina ID-urile pe care si le-au dorit atunci cand au inregistrat contul de Yahoo.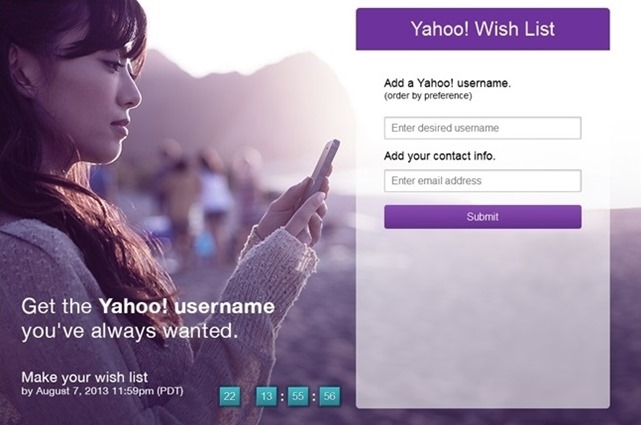 Inregistrarea in Yahoo! Wish List este disponibila pana pe 7 august 2013, procesul acestuia permitand fiecarui utilizator inregistrat sa selecteze pana la 5 ID-uri inactive preferate. Apoi acestia vor trebui sa introduca datele de contact si sa astepte pana cand Yahoo ii va anunta (via e-mail) daca au avut sansa sa prinda disponibil unul dintre cele 5 ID-uri selectate.
To get the Yahoo! username you've always wanted, we've set up a page where you can request your top five choices. If your first choice isn't available, we'll try one of your backups.

In mid-August, you'll get an email letting you know which of your picks is available, with link to claim it within 48 hours. And just like that, it's all yours.
Pentru a va inregistra in Yahoo! Wish List si a selecta cele 5 ID-uri preferate din cele inactive, vizitati Yahoo! Wish List Registration Page.
Mai multe informatii despre acest proces puteti gasi vizitand link-urile Get Your Yahoo! Username Wish List Ready! de pe blogul Yahoo! Tumblr si Reclaiming Yahoo! Usernames In A Way That's Secure: Require-Recipient-Valid-Since de pe blogul Yahoo! Developer Network.
STEALTH SETTINGS – Register to Yahoo! Wish List to claim inactive Yahoo IDs