Tocmai cand incepuse sa scape de reputatia proasta de browser nesigur, Internet Explorer a dat-o iar in bara. Zilele trecute a fost descoperita o vulnerabilitate critica in IE, care le permite hacker-ilor sa execute remote coduri arbitrare in sistem, chiar daca doar vizitati o pagina web infectata. Din pacate, de data aceasta, nu este vorba doar de o problema a vechii versiuni IE 6, pentru ca sunt afectate inclusiv versiunile 7, 8 si 9, iar vulnerabilitatea respectiva este deja exploatata, prin intermediul acesteia fiind deja afectate mii de computere.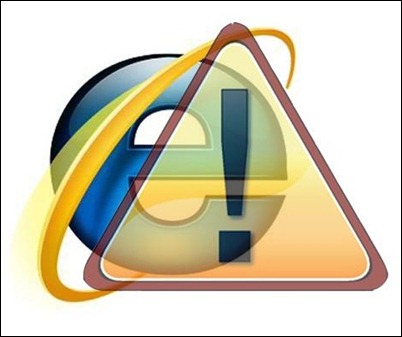 Exploit-ul are 4 componente principale, acestea fiind fisierul Explot.html care actioneaza ca punct de inceput, apoi un fisier flash, Moh2010.swf, responsabil pentru infectarea cu trojan-ul PoisonIvy, fisierul Protect.html care "activeaza" vulnerabilitatea prin care se poate face exploit-ul, si componenete malware aditionale, downloadate si instalate in sistemul afectat de catre trojan.
Poisonivy is a backdoor trojan that allows unauthorized access and control of an affected machine. It attempts to hide by injecting itself into other processes.
Pana cand aceasta problema majora pentru Internet Explorer va fi rezolvata de catre Microsoft, este recomandat fie sa upgradati la IE 10, care nu este afectat de vulnerabilitate, fie sa folositi browsere alternative, de exemplu Firefox, Opera sau Chrome. In cazul in care nu doriti sa renuntati de tot in a folosi Internet Explorer, sau aveti nevoie de acesta pentru a neviga pe anumite site-uri, inclusiv Microsoft recomanda fie sa setati Internet and Local intranet security zone la High pebtru a bloca ActiveX Controls si Acrive Scripting, fie sa instalati Enhanced Mitigation Experience Toolkit si sa adaugati browserul Internet Explorer la acesta pentru a bloca exploitul (pentru a descarca toolkit-ul si pentru a afla mai multe informatii despre acesta, vizitati pagina oficiala a Microsoft).
Nota: Detalii despre vulnerabilitate si felul in care poate afecta computerele gasiti aici.
STEALTH SETTINGS – New critical vulnerability in Internet Explorer endangers Windows systems
O noua vulnerabilitate critica in Internet Explorer pune in pericol sistemele Windows