Nu este nicio gluma. Este un serviciu online (testat de mine) care permite sa sunati de pe PC pe orice nr de telefon doriti, aproape oriunde in lume (inclusiv in Romania). Nu stiu daca se poate suna si la numerele cu suprataxa, dar am testat de pe PC pe numarul meu de Orange si a mers. Serviciul este oferit pe internet de EvaPhone si ofera posibilitatea de a efectua convorbiri telefonice gratuite, utilizand VoIP. Pentru a beneficia de acest serviciuaveti nevoie de un computer conectat la internet si bineinteles, un numar de telefon pe care sa sunati :)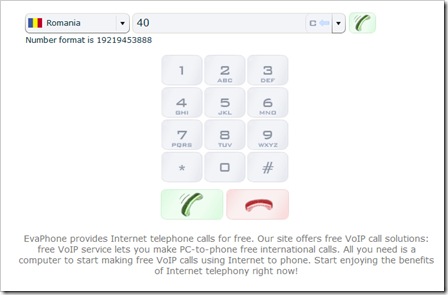 Timpul de convorbire (free) este limitat in functie de destinatia apelului. De la 00:04 secunde pana la 10 minute. Aveti la adresa evaphone.com/destinations lista tarilor si timpul de convorbire oferit gratuit pentru fiecare in parte. Bineinteles, se pot cumpara credite care pot fi transformate in timp de convorbire. Lista de preturi este afisata pe site-ul evaphone.net, impreuna cu alte detalii despre acest serviciu.
EvaPhone provides Internet telephone calls for free. Our site offers free VoIP call solutions: free VoIP service lets you make PC-to-phone free international calls. All you need is a computer to start making free VoIP calls using Internet to phone. Start enjoying the benefits of Internet telephony right now!
Suna gratuit de pe PC, oriunde in lume.