Zilele trecute un utilizator Stealth Settings ne-a intrebat (cu cuvintele lui, dar asta am inteles noi) daca exista vreo posibilitate de a reseta Default Programs in Windows. Problema lui suna cam asa:
de cateva zile pe desktop toate icoanele au acelasi simbol (mai exact google chrome) si toate aplicatiile si jocurile pornesc de fapt cu google chrome, am incercat sa schimb modul de pornire la o aplicatie, de exemplu winamp, dar cum i-am schimbat iconul in winamp, toate icoanele de pe desktop s-au schimbat in winamp
Recunoasteti situatia? Eu unul admit ca prima data cand am patit-o m-am rugat vreo 3 zile de un prieten sa-mi reinstaleze sistemul. Si probabil multi dintre utilizatorii care s-au confruntat cu problema asta inca mai cred ca reinstalarea Windowsului este singura solutie. Ei bine, nu este asa. Rezolvarea, desi poate dura mai mult (in unele cazuri) decat o reinstalare fresh de Windows (deci da, plictisitoare), este una foarte simpla.
Cum putem reseta Default Programs sau cum putem seta programele implicite cu care se deschid fisierele de diferite tipuri in Windows 7
dati click pe Default Programs in Start Menu (in cazul in care v-ati customizat meniul de start si ati scos aceasta optiune, tastati default programs in Search programs and files sau deschideti Control Panel si navigati catre Programs > Default Programs) apoi dati click pe Associate a file type or protocol with a program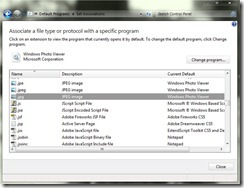 apoi selectati un anumit tip de fisier (adica in functie de extensie) si dati click pe Change Default Program
in fereasta deschisa, daca printre programele afisate se afla si cel(e) potrivit(e) pentru tipul de fisier selectat, dati click pe acesta apoi pe OK. In cazul in care programul dorit/necesar nu se afla printre cele afisate, dati click pe Browse apoi navigati catre folderul de instalare al acestuia, selectati-l si dati click pe Open.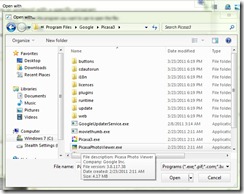 repetati pentru fiecare fisier caruia vreti sa ii modificati programul default.
De asemenea, puteti modifica programele implicite in Windows 7, navigand catre Control Panel > Default Programs > Set your default programs, apoi selectand programele default cu care sa se deschida anumite tipuri de fisiere (metoda poate fi putin mai rapida daca nu aveti nimic in potriva ca diferite fisiere sa se deschida cu acelasi program, de exemplu gif, png si jpg vs. Windows Viewer).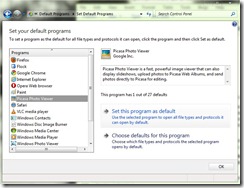 Daca aceste doua metode vi se par prea plictisitoare sau ca va mananca prea mult timp, puteti downloada fixurile de care aveti nevoie de pe Seven Forums.
Nota: Utilizatorii XP si Vista pot modifica programele default din Start Menu > All Programs (in XP)/Default Programs (in Vista) > Set program access and (computer) defaults, apoi selectand una dintre optiunile:
Computer Manufacturer (daca ati cumparat computerul cu Windowsul instalat, aceasta optiune va reseta programele default care au "venit" la pachet cu computerul)
Microsoft Windows (programele default vor fi selectate doar din programe marca Microsoft)
Non-Microsoft (programele default vor fi selectate doar din programe care nu poarta semnatura Microsoft)
Custom (puteti selecta ce programe doriti dvs ca default pentru diferitele tipuri de fisiere existente in computer)
STEALTH SETTINGS – Reset Default Programs in Windows 7
Cum putem reseta Default Programs pentru diferite tipuri de fisiere in Windows 7