Din cand in cand se intampla sa mai intampinam si cate o eroare a hard-diskului, mai ales daca acesta are adunati catva ani si presteaza (aproape) non-stop. In astfel de cazuri, Windowsul ne ofera optiunea de a verifica hdd-ul de erori (cate sunt si care sunt sectoarele afectate) cu Chkdsk.exe. Pentru acest lucru insa este necesara restartarea computerului si apoi asteptarea (uneori destul de lunga si iritanta) ca utilitatea sa-si faca damblaua (adica sa termine de scanat hdd-ul).
CheckDiskGUI este o aplicatie gratuita, cu interfata simpla si usor de utilizat, care prezinta aceleasi caracteristici ca CheckDisk-ul Windowsului, diferenta fiind aceea ca, datorita faptului ca nu este necesara restartarea computerului, verificarea hdd-ului poate fi facuta in paralel cu alte activitati (navigare pe internet, editare documente, vizionare filme etc). In plus, CheckDiskGUI  prezinta si optiunile de Reparare si Reparare & Recuperare a sectoarelor hdd-ului si a datelor de pe acesta.
Cum functioneaza CheckDiskGUI?
Atunci cand rulam aplicatia, aceasta listeaza toate partitiile/hdd-urile existente in sistem. In functie de erorile aparute, puteti selecta una sau mai multe partitii pentru ca acestea sa fie verificate.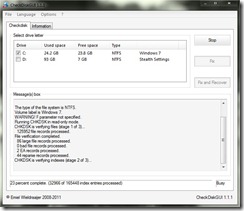 daca doriti doar sa verificati hdd-ul de erori, dupa ce ati selectat partitiile, dati click pe Read Only (aceasta optiune nu va restarta PC-ul si va va permite sa folositi computerul in timpul verificarii).
daca doriti sa reparati eventualele erori care ar putea fi descoperite (sau erorile descoperite deja), dati click pe Fix sau pe Fix and Recover (pentru a repara si a recupera datele scrise pe sectoarele afectate). Atentie insa, optiunile Fix si Fix and Recover necesita restartarea computerului, deoarece repararea sectoarelor are loc in timpul bootarii in Windows.
Nota: Compatibil cu Windows XP, Windows Vista si Windows 7.
STEALTH SETTINGS – Fix hard-disk errors with CheckDiskGUI.
Repara erorile de hard-disk cu CheckDiskGUI