Unul dintre feature-urile disponibile in Microsoft Office Word 2013 este abilitatea de a cauta online sectiuni selectate dintr-un text continut de un fisier Word (feature-ul este inclus in meniul de click-dreapta din Word). In mod default, motorul de cautare folosit pentru acest feature este Bing (de unde si numele acestuia Search with Bing), insa avand in vedere ca multi utilizatori prefera sa foloseasca Google in locul Bing, cel mai probabil acestia vor dori sa modifice optiunea respectiva din Search with Bing in Search with Google, fortand astfel cautarile online sa fie efectuate cu Google (in versiunile anterioare de Office, optiunea Search with Bing era disponibila ca Look Up > Bing).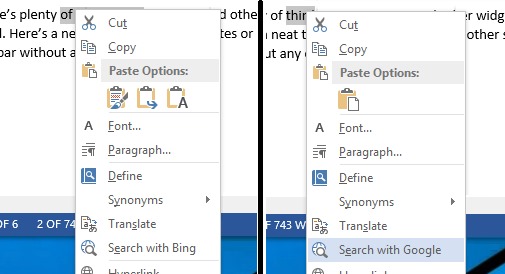 Daca obisnuiti sa folositi acest feature MS Word si doriti sa schimbati motorul de cautare default (Bing) cu Google, puteti face acest lucru cu ajutorul unui simplu hack de registri.
Cum schimbam optiunea Search with Bing in Search with Google in MS Word 2013?
deschideti Registry Editor (tastati regedit in Run si dati Enter)
apoi navigati catre key-ul HKEY_CURRENT_USER\Software\Microsoft\Office\15.0\Common\General
sub General, in partea dreapta, creati urmatoarele intrari String:

SearchProviderName, careia ii veti da valoarea Google
SearchProviderURI, careia ii veti da valoarea http://www.google.com/search?q=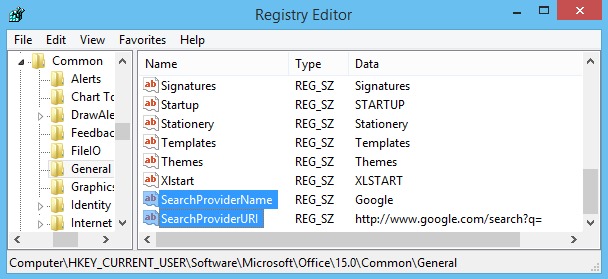 Modificarea va avea efect imediat, utilizatorii putand cauta textul selectat din Word folosind motorul de cautare Google. Daca veti dori sa va intoarceti la Bing, pur si simplu stergeti intrarile String adaugate in registri.
Nota: Inainte de a face orice modificari in registri de sistem, creati un backup al acestora sau faceti un restore point al sistemului pentru a evita eventuale consecinte (functionarea incorecta a sistemului sau a aplicatiilor).
STEALTH SETTINGS – How to change Search with Bing option to Search with Google in MS Word 2013