Microsoft Office si alte aplicatii ale Windows pastreaza tot felul de informatii personale atunci cand salvam un fisier. Numele utilizatorului, numele computerului, firma, data si ora ultimei editari sunt doar cateva din informatiile "ascunse" in spatele unui simplu fisier creat cu Microsoft Office.
Daca nu doriti ca aceasta amprenta sa fie pastrata in detaliile fisierului, sistemul de operare Windows Vista va ofera o solutie de a va proteja confidentialitatea acestor informatii.
Pentru a sterge datele personale de la "Details" ale unui document Microsoft Office trebuie sa urmati cativa pasi simpli:
1. Click dreapta pe fisier si selectati "Properties".
2. Click pe tab-ul "Details".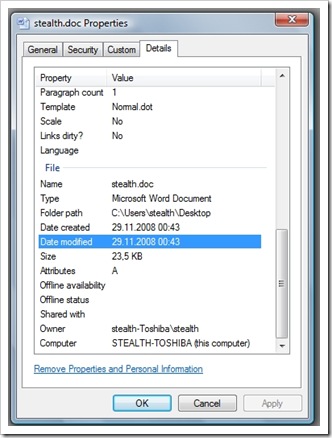 3. Click pe "Remove Properties and Personal Information".
4. Din meniul care se deschide "Remove Properties", bifati "Remove the following properties from this file" apoi click pe "Select All" si "OK".
Dupa ce urmati acesti pasi datele personale din fisierul Microsoft Office vor fi sterse.
Cum sa eliminam informatiile personale dintr-un fisier Microsoft Office