Pentru un blog nu stiu cat de util este sa vedem ce anume cauta utilizatorii in site folosind butonul / bara de cautare interna, insa pentru un magazin online este foarte important. Mai ales atunci cand avem o campanie publicitara, iar utilizatorii nu ajung pe o pagina cu produse relevante si efectueaza cautari in site. Putem obtine informatii valoroase despre produsele care s-au cautat in site-ul nostru si putem redirectiona pe viitor potentialii cumparatori catre produse similare sau poate chiar aduse produsele cautate.

WooCommerce este una dintre platformele alese de tot mai multi dezvoltatori de magazine online. Are la baza WordPress, este un sistem gratuit, nu consuma multe resurse pe web server, usor de personalizat si dezvoltat constant cu noi functii, module (plugins) si optiuni.
Daca suntem posesorului unui magazin online construit pe WooCommerce si dorim sa vedem ce produse / servicii cauta utilizatorii pe site, avem la indemana cel putin doua metode prin care putem sa vedem cuvintele cheie (keywords) scrise in bara de cautare (search box) din magazinul online.
Metoda de urmarire a cuvintelor cheie cautate in site cu Google Analytics
In primul rand presupunem ca avem deja blogul sau magazinul online inscris in Google Analytics. Serviciul oferit gratuit de Google ofera o sumedenie de informatii, de la numarul de vizitatori unici, numar de afisari, cele mai accesate pagini si pana la valoarea utilizatorului care acceseaza site-ul.
Nu este stabilit in mod implicit, dar putem sa activam in Google Analytics si urmarirea cautarilor din site sau magazin online. Noi mai sus am spus de WordPress si WooCommerce, insa aceasta optiune poate fi activata pentru orice tip de site care foloseste un parametru standard de interogare.
Sa vedem exact cum activam urmarirea cuvintelor cheie cautate de utilizatori pe un blog sau magazin online.
Mergem in contul Google Analytics la proprietatea pentru care dorim sa activam urmarirea cautarilor ("Site search Tracking") si facem click pe butonul de administrare. "Admin".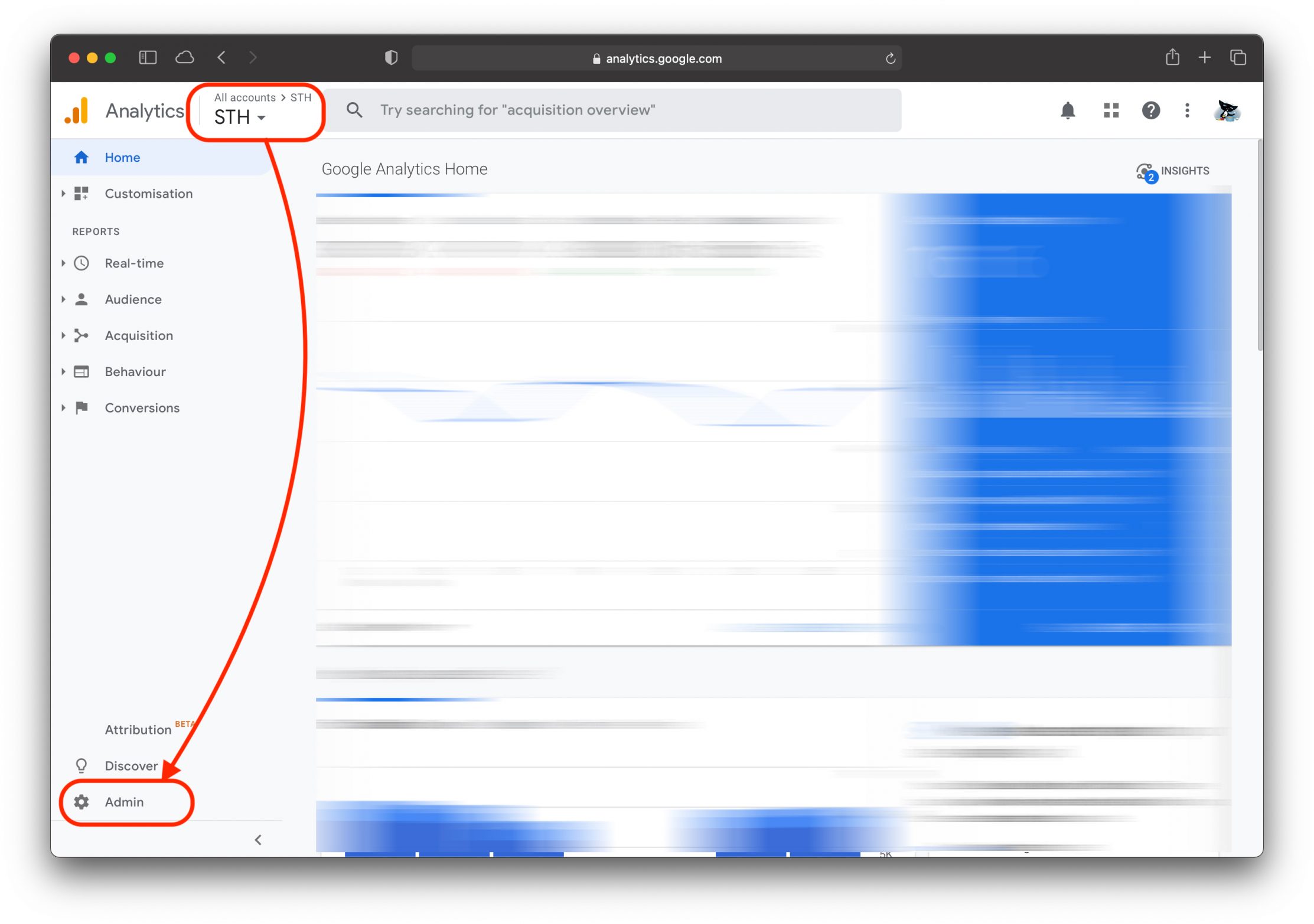 2. In pagina care se deschide mergem la "Account" → "Property" → "View" si "View Settings". Atentie daca avem mai multe conturi, proprietati si vizualizari in contul Google Analytics. Alegem vizualizarile pentru site-ul pe care ne intereseaza sa urmarim cuvintele cheie cautate in site.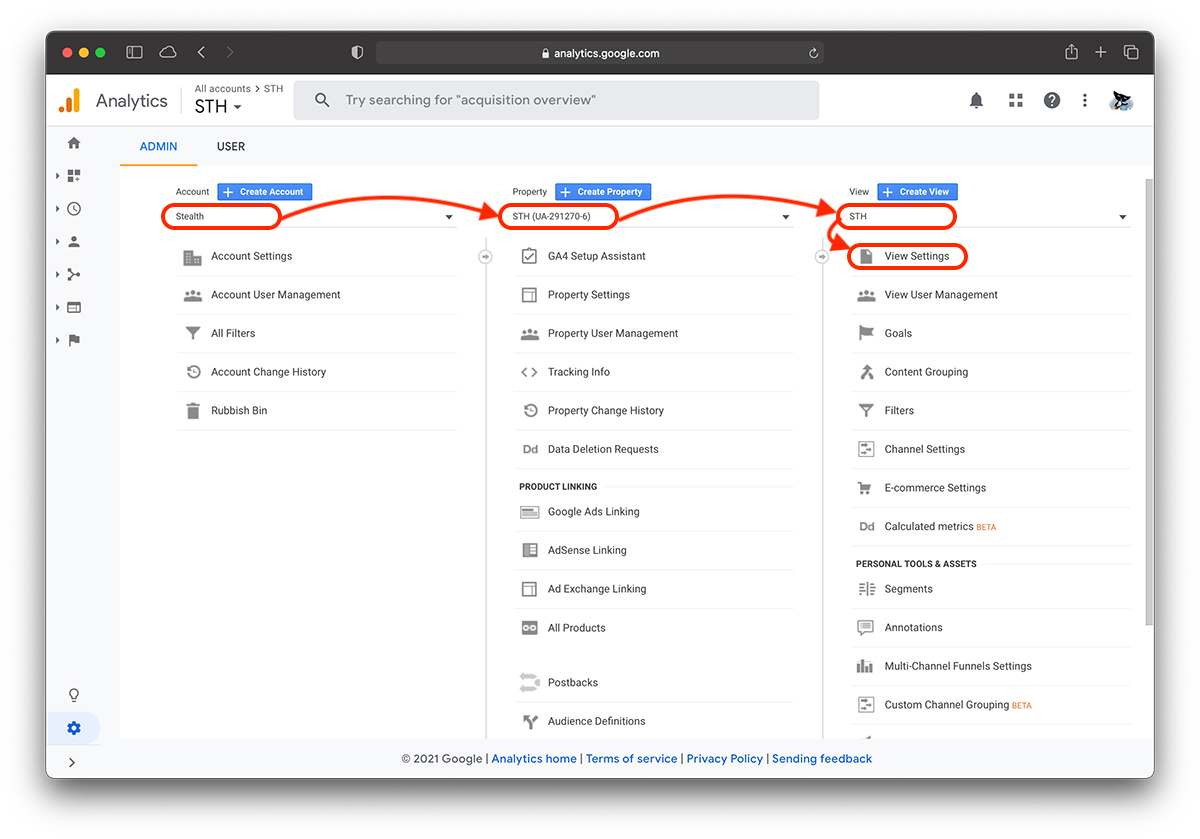 3. In "View Settings" mergem in partea de jos a paginii si activam optiunea: "Site search Tracking" de sub "Site Search Settings".
La parametrul de interogare (Query parameter) punem "s" si bifam optiunea "Strip query parameters out of URL".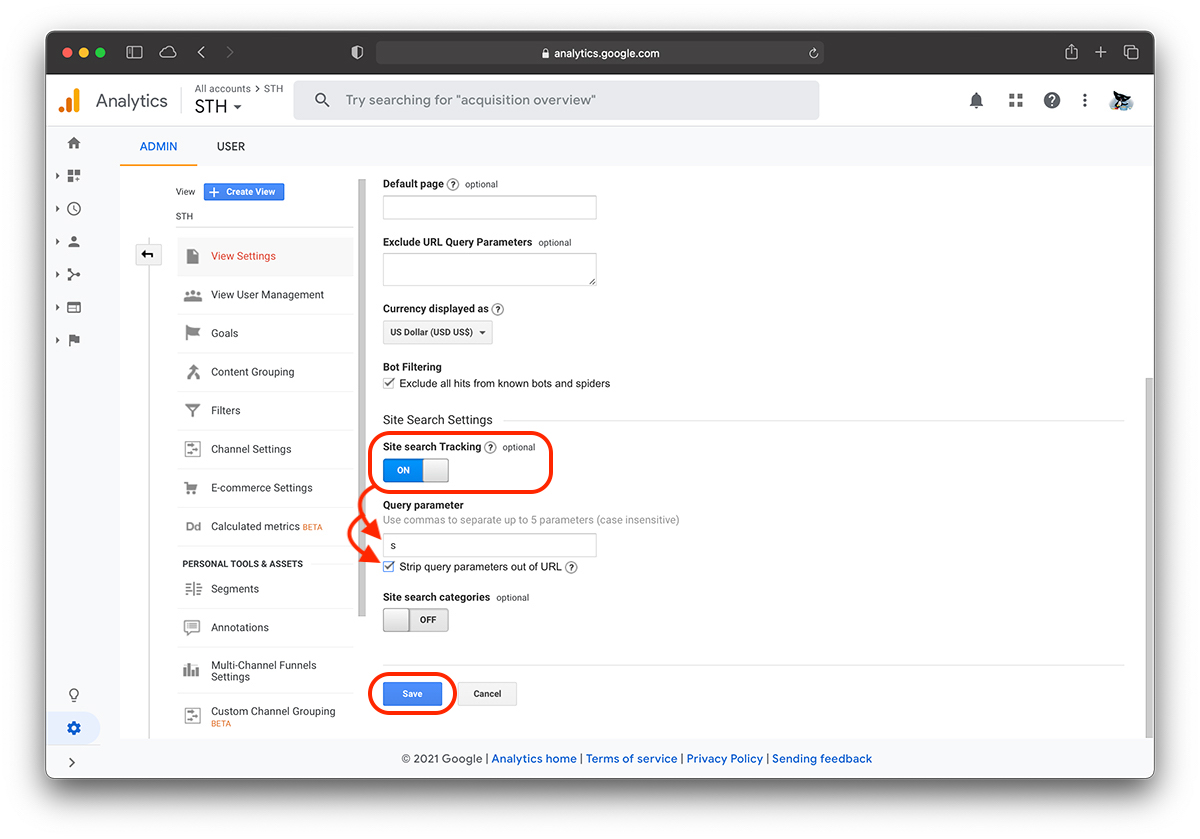 4. Click "Save" dupa ce ati facut aceste setari.
Parametrul de interogare pentru WordPress este de regula "s". Acesta apare in adresa URL in momentul in care se face o cautare in site. Acesta se regaseste intre "?" si "=".

Daca folositi un alt CMS sau platforma de magazin online, efectuati o cautare in site si verificati in adresa URL care este parametrul de interogare pe care va trebui sa-l completati in Google Analytics.
Bifand "Strip query parameters out of URL" rapoartele din Google Analytics nu se vor face pe fiecare pagina in parte, ci toate cuvintele cheie vor fi grupate toate intr-un singur raport.
Cum vedem in Google Analytics cuvintele cheie cautate pe blog sau magazin online?
Mergem in rapoartele Google Analytics la Behavior → Site Search. Aici o sa gasim cuvintele cheie folosite pentru cautare in site, paginile de pe care au fost efectuate cautarile, plus multe alte informatii utile pentru optimizarea continutului si interesul utilizatorilor.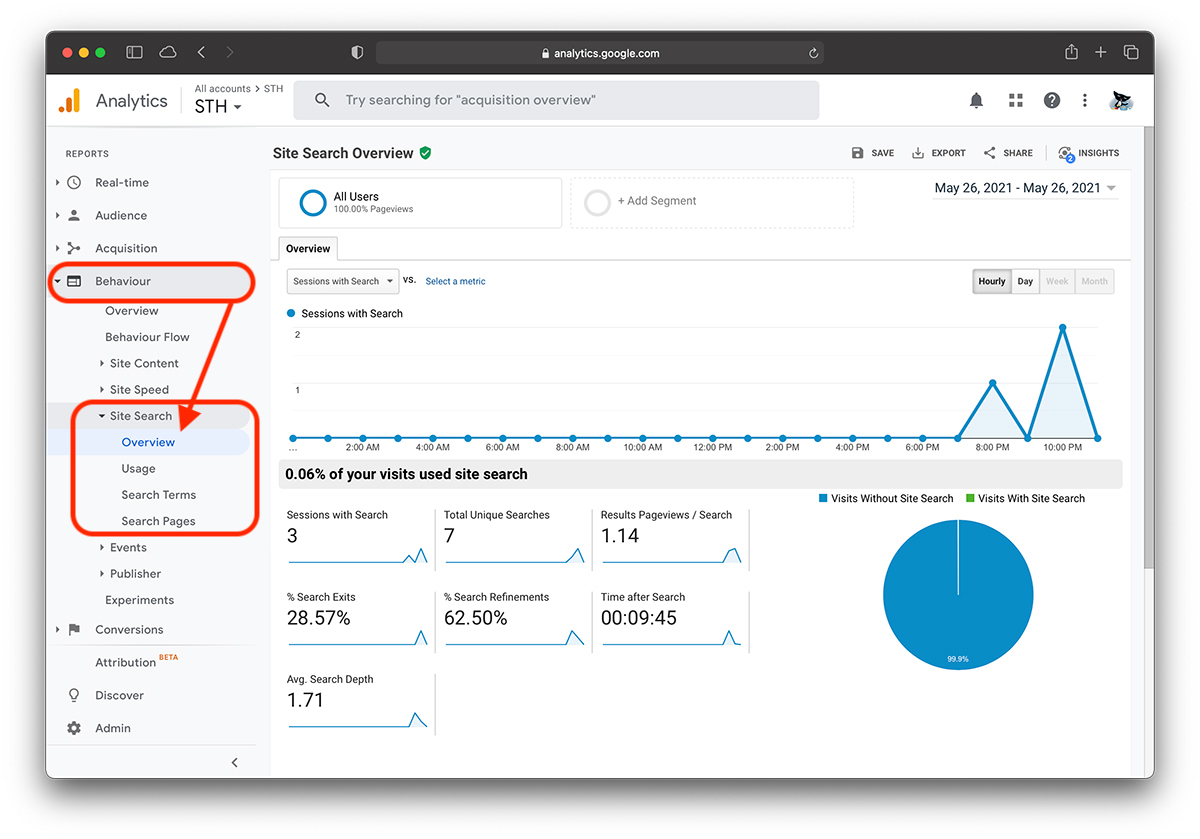 Rezultatele or sa apara la cateva minute dupa ce faceti modificarea in contul Google Analytics.
WordPress Plugin pentru Site Search Tracking
Asa cum am spus la inceput, atat pentru WordPress cat si pentru WooCommerce sunt dezvoltate foarte multe module (plugins) capabila sa faca aproape tot ce va trece prin minte. Inclusiv sa inregistreze in baza de date cuvintele cheie cautate de utilizatori in site.
Un astfel de plugin pe care l-am testat si functioneaza foarte bine, este "Search Analytics", dezvoltat de Cornel Raiu. Tot ce trebuie sa faceti ca sa-l instalati, este sa mergem in Dashboard → Plugins → Add New si sa cautati "Search Analytics" by Cornel Raiu. Este foarte usor de configurat si nu consuma multe resurse DB.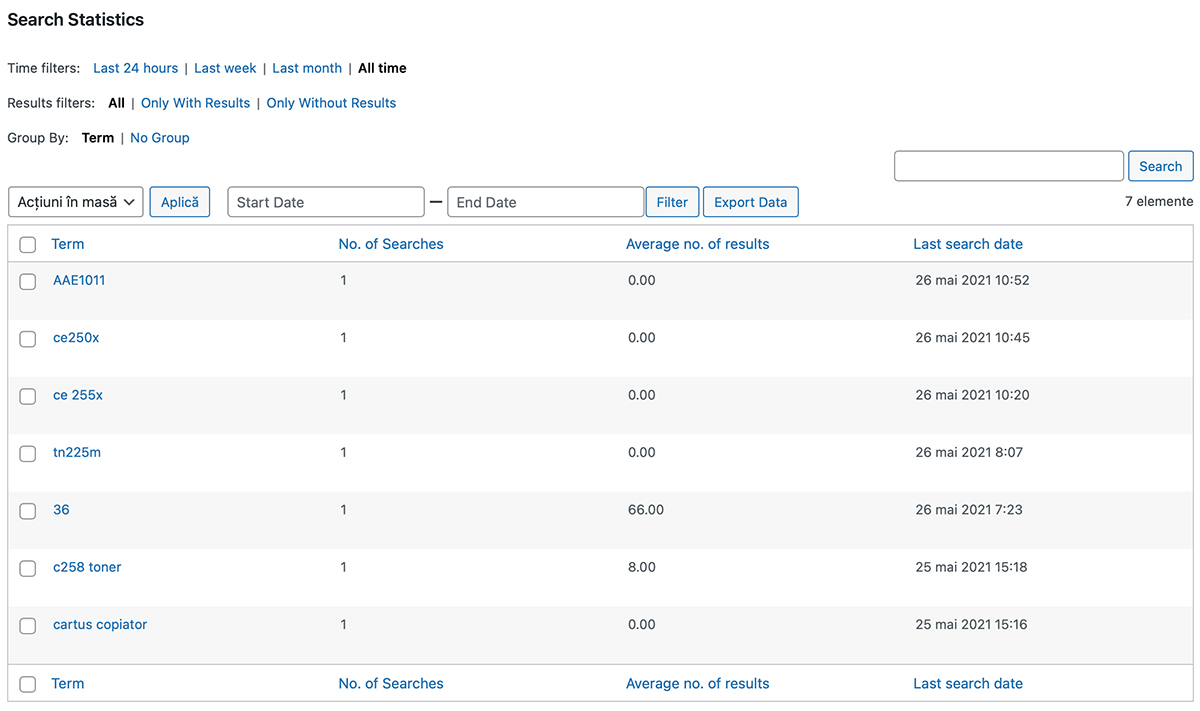 Plugin-ul nu necesita sa aveti un cont de Google Analytics si este gratuit.