O buna perioada de timp, care se poate traduce in ani, Microsoft nu a dat importanta prea mare dezvoltarii productivitatii pe sistemele de operare Windows. Daca ne intoarcem putin in timp, este usor sa ne amintim cum sistemul de operare se restarta subit pentru te miri ce updare si cum munca de cateva ore dintr-o aplicatie se rezuma la un "Configuring Windows updates 0% complete. Do not turn off your computer". Am fost patit in urma cu multi ani, cand faceam un transfer cu volum mare de date (via SFTP), iar calcularul s-a restartat sigur din cauza unui update. Se intampla prin 2012, cu putin inainte sa devin utilizator de Mac.
Odata cu Windows 10 se pare ca aceasta politica s-a schimbat (dupa ce cateva sute de mii de utilizatori au migrat pe Linux sau pe Mac) iar Microsoft a adus constant noi elemente si functii cu adevarat utile si importante pentru productivitate.
Una dintre functiile noi de pe Windows 10, este aceea care permite salvarea automata a aplicatiilor deschise si relansarea lor odata cu repornirea sistemului de operare. Astfel ca daca utilizatorul are un text in Word, un browser deschis si alte aplicatii, acestea se vor redeschide automat cu toate datele salvate ele, chiar daca PC-ul a fost inchis de tot – Shut Down sau sistemul de operare restartat. Mai exact utilizatorul nu va mai pierde datele nesalvate in caz de restart sau shutdown.
Nu putem spunea ca este vorba despre o inovatie. Pe Mac aceasta este o optiune default. Chiar si in cazul in care intervine o pana de curent, un iMac va relua la repornire procesul de lucru asa cum era inainte de inchiderea subita.
Cum putem seta Windows 10 sa redeschida aplicatiile pornite si tot ce este sakvat in ele, la momentul inchiderii sau al restartului.
1. In primul rand trebuie sa avem Windows 10 actualizat la cea mai recenta versiune. Verificam sau actualizam Windows 10 din: "Settings" → "Updates & Security" → "Windows Update".
2. Mergem in "Settings" → "Accounts" → in bara din partea stanga facem click pe "Sign-in options".
In aceasta sectiune au fost introduse foarte multe optiuni de securiate pentru utilizatorii de Windows. De la optiuni de autentificare biometrica ("Windows Hello Face", "Windows Hello Fingerprint") si pana la optiuni de restartare a aplicatiilor. Cele din urma optiuni de interseaza pe noi, asa ca in "Sign-in options" rulam pana in partea de jos la "Restart apps" si activam optiunea.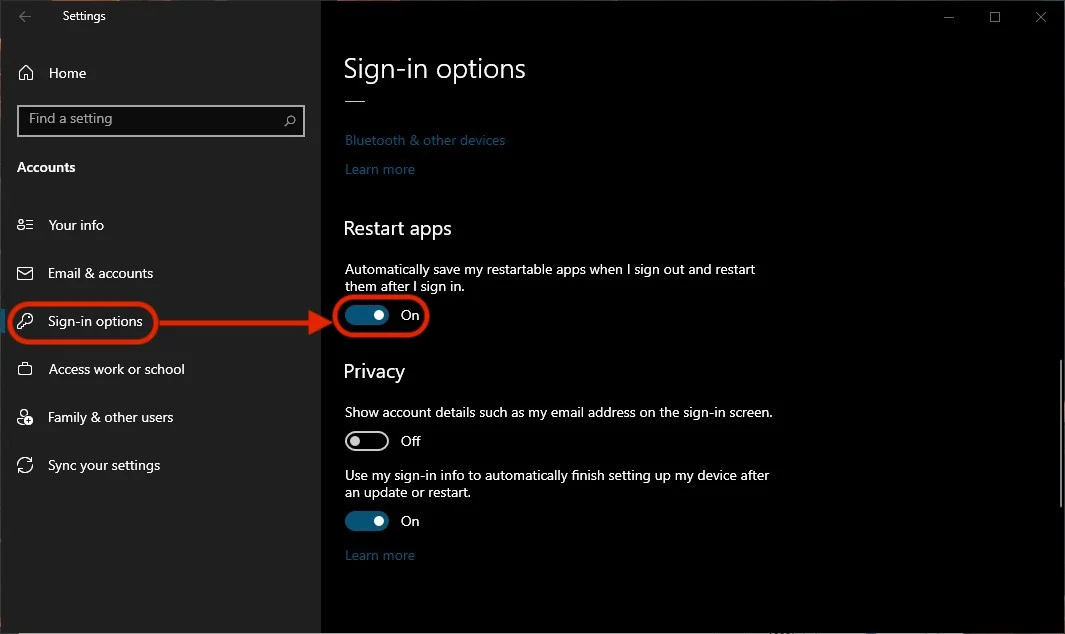 Retineti totusi ca nu toate aplicatiile suporta aceasta caracteristica a Windows 10. Sunt numai o serie de aplicatii, pe care le numim "restartable apps" care suporta acest feature.
Optiunea "Automatically save my restartable apps when I sign out and restart them after I sign in" a facut parte pana la update-ul Mai 2020 din "Privacy" → "Use my sign-in info to automatically finish setting up my device after an update or restart".
Cu optiunea "Restart apps" activata, aplicatiile deschise manual pe Windows 10 vor fi redeschise automat dupa restart sau dupa repornirea PC-ului. Aceasta optiune nu va avea efect asupra aplicatiilor din startup.
Aceasta optiune poate fi activata si dezactivata rapid si din meniul "Start" (Start menu) → "Power" → "Restart apps after signing in"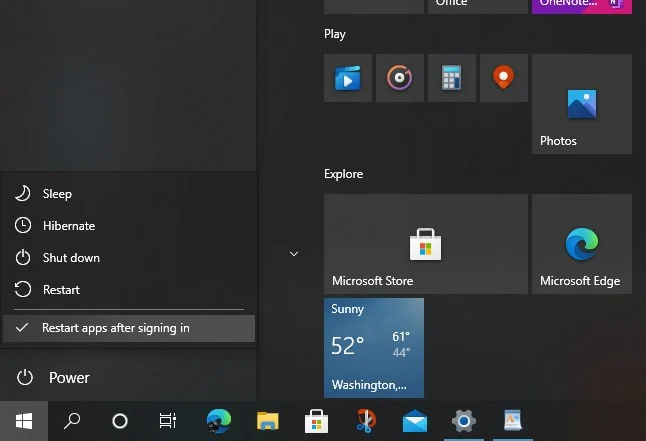 Desi este o optiune foarte buna pentru productivitate, multi utilizatori o considera enervanta. Daca avem resurse hardware modeste, redeschiderea simultana a mai multor aplicatii la repornirea sistemului de operare va solicita un timp de asteptare mai indelungat.