Un tutorial simplu adresat administratorilor de webservere care doresc sa stearga din Certbot certificatele SSL ale domeniilor care nu mai sunt gazduite pe server. Delete old domains certbot certificates.
Certbot este un software open-source folosit de multi administratori de sistem pe CentOS / RHEL pentru administrarea certificatelor HTTPS / TLS / SSL Let's Encrypt.
Operarea certbot se face prin linii de comanda executate direct in webserver (conexiune SSH sau consola), iar pentru a instala un certificat este suficient ca domeniul / subdomeniile sa fie gazduite pe acel server si sa fie active in internet pe IP-ul serverului. Dupa executarea comenzii "certbot" se vor lista numeric toate domeniile gazduite pe server pentru care putem instala un certificat Let's Encrypt. Tastam cu spatiu intre ele numerele corespunzatoare fiecarui nume de domeniu pentru care se va face instalarea certificatului SSL.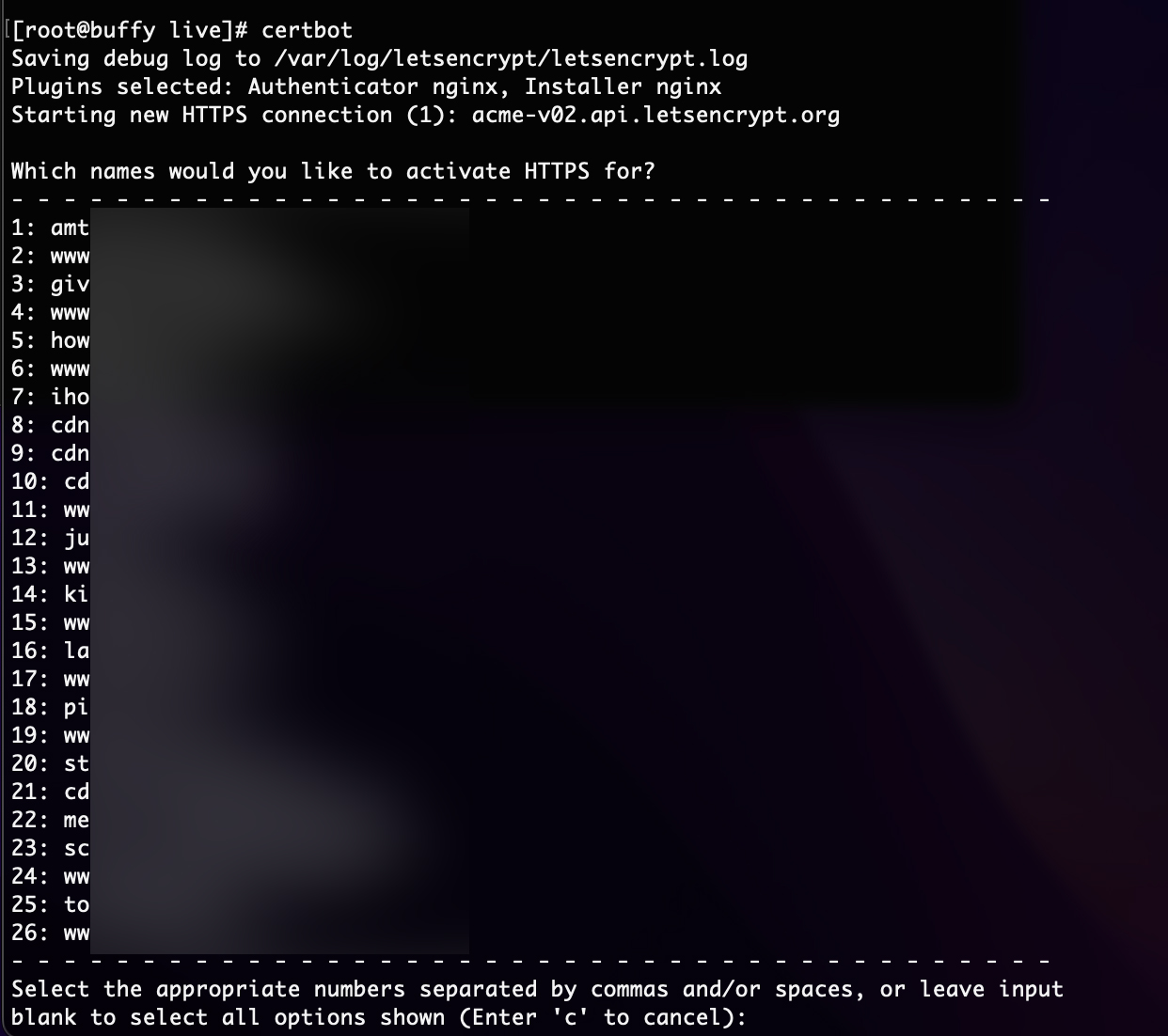 O mica problema este atunci cand de pe webserver a fost sters un domeniu care a avut certificat instalat prin Certbot. Acesta va fi listat in continuare la comanda prin care verificam perioada de valabilitate a certificatelor SSL pentru toate domeniile. Daca de-a lungul timpului pe server au fost mai multe domenii, va fi destul de dificil de urmarit lista de certificate certbot.
certbot certificates
Cel mai bine ar fi ca in lista de certificate sa nu ramana decat domeniile active.
Delete old domains Certbot certificates – How To
In mod normal, inainte sa stergem un domeniu sau subdomeniu de pe webserver, acesta trebuie inainte sa-i revocam si sa-i stergem certificatul Let's Encrypt. Executam comanda "certbot" ca sa afisam lista numerica cu domeniile active, apoi comanda "certbot delete number number" ca sa stergem certificatul SSL. Remove old domains certbot certificates.
Daca nu am facut acest lucru inainte sa stergem domeniul de pe webserver, acesta va ramane in lista ce certificate a certbot. certbot certificates.
Datele despre domeniile activate si care au fost activate in trecut cu certbot sunt pastrate in trei locuri pe sever. La comanda "certbot certificates" aceste domenii chiar daca nu mai sunt prezente pe sever vor fi listate in continuare.
/etc/letsencrypt/live
/etc/letsencrypt/renewal
/etc/letsencrypt/archive
Executam in webserver comanda "ls -all /etc/letsencrypt/live" ca sa vedem domeniile prezente in Let's Encrypt.
Identificam domeniile pe care dorim sa le stergem, fie din lista afisata la comanda de mai sus fie din "certbot certificates", apoi executam urmatoarea comanda:
certbot delete --cert-name olddomain.tld
Confirmam cu "Y" stergerea domeniului din lista ce certificate Certbot.
[root@buffy ~]# certbot delete --cert-name olddomain.tld
Saving debug log to /var/log/letsencrypt/letsencrypt.log

- - - - - - - - - - - - - - - - - - - - - - - - - - - - - - - - - - - - - - - -
The following certificate(s) are selected for deletion:

  * olddomain.tld

Are you sure you want to delete the above certificate(s)?
- - - - - - - - - - - - - - - - - - - - - - - - - - - - - - - - - - - - - - - -
(Y)es/(N)o: Y
Deleted all files relating to certificate olddomain.tld.
[root@buffy ~]# 
Certificatele SSL vor fi sterse (Delete old domains certbot certificates) din Certbot atat pentru numele de domeniu cat si pentru subdomeniile acestuia, daca foloseau acelasi certificat.
  Certificate Name: olddomain.tld
    Serial Number: 3fd34e0e3304521371abe948
    Key Type: RSA
    Domains: www.olddomain.tld olddomain.tld
    Expiry Date: 2022-02-09 09:46:12+00:00 (INVALID: EXPIRED)
    Certificate Path: /etc/letsencrypt/live/olddomain.tld/fullchain.pem
    Private Key Path: /etc/letsencrypt/live/olddomain.tld/privkey.pem
Sunt si scenarii in care putem utiliza certificate SSL diferite pentru domeniu si unele subdomenii. In special atunci cand pe langa Certbot folosim combinat administrator DNS si SSL serviciul Cloudflare.