Una dintre modificarile majore ale sistemului de operare Windows 8 a fost eliminarea Sidebar-ului si a Gadget-urilor, destul de indragite de o mare parte dintre utilizatorii Windows Vista si Windows 7. Motivul specificat de Microsoft, afisat pe pagina oficiala a Windows Personalizations Gallery, este urmatorul:
Because we want to focus on the exciting possibilities of the newest version of Windows, the Windows website no longer hosts the gadget gallery.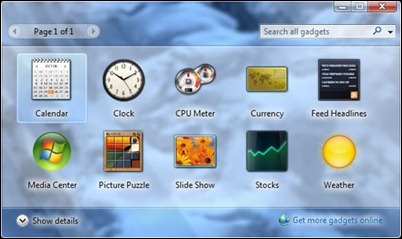 Motivul real insa este altul. Mult indragitele gadget-uri contineau vulnerabilitati care le dadeau posibilitatea hacker-ilor sa execute prin remote coduri care puteau compromite computerele utilizatorilor. Acelasi lucru este valabil si pentru gadget-urile non-Microsoft, care inca mai sunt folosite pe sistemele de operare Windows Vista, Windows 7 si chiar Windows 8.
An attacker who successfully exploited a Gadget vulnerability could run arbitrary code in the context of the current user. If the current user is logged on with administrative user rights, an attacker could take complete control of the affected system. An attacker could then install programs; view, change, or delete data; or create new accounts with full user rights. Users whose accounts are configured to have fewer user rights on the system could be less impacted than users who operate with administrative user rights.
Cum putem sa ne protejam computerele de vulnerabilitatile existente in Sidebar si Gadget-uri?
Desi oarecum voalat, Microsoftul avertizeaza utilizatorii sa dezactiveze Sidebar-ul si Gadget-urile pentru a evita compromiterea sistemelor de operare.
Disabling the Windows Sidebar and Gadgets can help protect customers from vulnerabilities that involve the execution of arbitrary code by the Windows Sidebar when running insecure Gadgets. In addition, Gadgets installed from untrusted sources can harm your computer and can access your computer's files, show you objectionable content, or change their behavior at any time.
In plus, pentru a da o mana de ajutor acestora, Microsoft a lansat si un Fix It automat care rezolva problema cu un singur click (dezactiveaza gadget-urile). Pentru utilizatorii interesati de acest Fix It, acesta poate fi downloadat de aici (KB2719662).

Cu parere de rau pentru fanii gadget-urilor, acestea nu merita sa va puneti PC-urile in pericol, de aceea este recomandat sa le dezactivati!
STEALTH SETTINGS – Protect your PCs by disabling Windows 7 and Windows Vista Sidebar & Gadgets