Cine se gandea ca nu o sa prinda ziua asta niciodata, ei bine, s-a inselat amarnic: pe 15 martie Microsoft va inchide unul dintre cei mai populari clienti de Instant Messaging, si anume Windows Live Messenger (cunoscut anterior ca MSN). Vestea buna este ca va fi inlocuit cu alt popular client IM, Skype, cumparat de Microsoft in mai 2011, dar probabil sunt destui utilizatori nostalgici, care folosesc WLM de vreo decada sau doua, si care ar fi preferat sa nu fie obligati sa renunte la acesta.
© tumblr.com
Microsoft a anuntat zilele trecute, prin e-mailuri, toti utilizatorii Windows Live Messenger ca dupa data de 15 martie 2013 nu vor mai putea sa se logheze pe clientul respectiv de IM, in schimb vor fi notificati sa faca upgrade-ul la Skype, pe care se vor putea loga folosind userul si parola de WLM, si unde toate contactele de pe vechiul client de IM vor fi importate automat.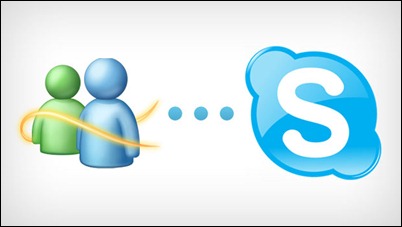 On 15th March 2013 we are retiring the existing Messenger service globally (except for mainland China where Messenger will continue to be available) and bringing the great features of Messenger and Skype together. Update to Skype and sign in using a Microsoft Account (same as your Messenger ID) and all your Messenger contacts will be at your fingertips. You'll be able to instant message and video chat with them just like before, and also discover new ways of staying in touch with Skype on your mobile and tablet.
Utilizatorilor Windows Live Messenger le recomandam sa instaleze Skype inca de pe acum, pentru a se putea obisnui mai usor cu acest client de IM (desigur, valabil doar pentru cei care nu il folosesc deja, avand in vedere popularitatea crescuta a acestuia din ultimii ani). Daca deja aveti un cont de Skype, logati-va pe acesta pentru a afisa atat contactele de pe Skype, cat si cele de pe Windows Live Messenger (pentru a accesa contactele din ambele conturi, va trebui sa va logati obligatoriu cu userul WLM, altfel nu vor fi afisate decat contactele Skype).
STEALTH SETTINGS – Microsoft is going to close Windows Live Messenger on March 15
Microsoft va inchide Windows Live Messenger pe 15 martie