Daca mouse-ul va lasa la greu, iar in momentul respectiv nu aveti posibilitatea de a face rapid rost de un altul nou, atunci v-ar fi de mare ajutor sa stiti ca tastatura (mai exact tastele numerice) poate inlocui functiile "defunctului". :)
Pentru a activa mouseul-tastatura (sau tastatura-mouse :P), aveti de facut cateva mici modificari in Control Panel.
Intrati in Ease of Access (Control Panel option) si dati click pe Change how your mouse works.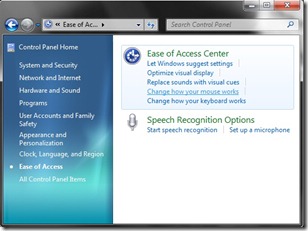 In fereastra afisata localizati Control the mouse with the keyboard si bifati optiunea Turn on Mouse Keys.
Dati Apply si OK si continuati-va treaba. :)
Cursorul il puteti muta cu ajutorul tastelor 1,2,3,4,6,7,8 si 9, tasta 5 fiind inlocuitor pentru click-stanga. Rolul de dublu–click il va avea tasta + (plus).
O scurtatura pentru a efectua mai repede aceste modificari ar fi combinatia de taste Alt+Shift+NumLock.
Dupa aceste modificari puteti activa sau dezactiva tastatura-mouse apasand tasta NumLock. Have fun! :D