Incepand cu Opera 15, popularul web-browser a renuntat la Presto in favoarea unui motor de redare bazat pe Chromium, ceea ce a adaugat acestuia suport pentru o noua arhitectura multi-proces, care ruleaza propriile procese pentru website-uri si plugin-uri. Mai exact, noul motor Chromium reduce efectul negativ pe care il poate produce crash-ul unei aplicatii de interpretare (rendering app) asupra browser-ului, acesta afectand doar un singur tab sau plugin deschis in browser, si nu tot browserul cum se intampla inainte.
In cazul in care folositi Opera 15 (sau o versiune mai recenta a browser-ului), cel mai probabil ati observat in Task Manager un nou proces denumit opera_chrashreporter.exe, listat sub celelalte procese opera.exe care ruleaza in sistem (in Windows, fisierul este localizat in Program Files > Opera, sau Program Files (x86) > Opera daca rulati o versiune x64 a acestui sistem de operare). Respectivul proces este folosit de browser pentru a reporta eventuale erori sau crash-uri catre Opera Software, in vederea identificarii si rezolvarii anumitor bug-uri ale acestuia.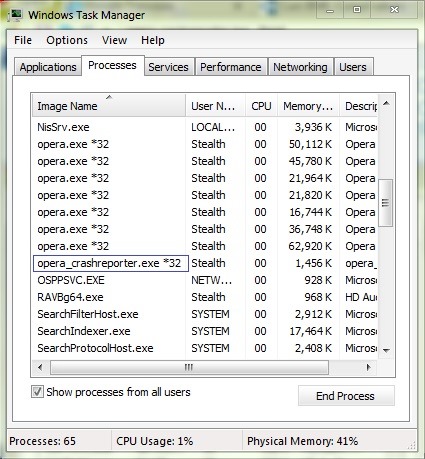 Desi procesul nu consuma foarte multe resurse si nu influenteaza nici functionarea browserului si nici cea a sistemului, in cazul in care va preocupa faptul ca nu aveti control asupra informatiilor pe care acesta le-ar putea trimite catre companie pentru a fi analizate, cel mai probabil veti dori sa dezactivati acest proces. Din fericire, acest lucru poate fi facut relativ simplu.
Cum dezactivam procesul opera_crashreporter.exe in Windows?
deschideti browser-ul Opera si accesati setarile acestuia (pentru a face acest lucru, dati click pe butonul Opera din coltul stanga-sus al browser-ului si selectati Settings din meniul afisat)
in panoul din stanga, selectati Privacy & Security
apoi, in partea dreapta, identificati si debifati optiunea Automatically send usage statistics and crash reports to Opera si restartati browserul
Si gata. Procesul opera_crashreporter.exe nu va mai rula (si nu va mai trimite informatii catre Opera Software) in Windows.
Nota: In cazul in care veti dori sa contribuiti la imbunatatirea performantei si reliabilitatii browser-ului Opera si veti dori sa reactivati procesul opera_crashreporter.exe, urmati pasii de mai sus si bifati inapoi optiunea respectiva.
STEALTH SETTINGS – How to disable opera_crashreporter.exe process in Windows