Pot sa ma consider norocos ca am reusit sa instalez Windows 11 (Insider Preview) pe un MacBook Pro (13-inch, mid. 2012), fara sa folosesc niciun hack. Doar am instalat initial Windows 10 prin Boot Camp Assistant, apoi am reusit cu usurinta sa fac upgrade la Windows 11.
Instalarea Windows 11 pe Mac nu va mai fi atat de simpla in momentul in care Micorsoft va lansa Windows 11 pentru publicul larg, iar majoritatea utilizatorilor se intreaba "cum vom instala Windows 11 pe Mac?".
De ce nu se poate instala Windows 11 pe Mac / Intel (Teoretic)
Asa cum stim, Apple ofera suport de instalare Windows pe Mac prin intermediul Boot Camp Assistant. Un utilitar care permite instalarea Windows in dual-boot, total independent de sistemul de operare macOS, dar cu drivere optimizate pentru arhitectura hardware tipica calculatoarelor Mac. Ca o paranteza, pe un Mac nu puteti avea instalat numai Windows, chiar daca asa cum am spus este independet. Obligatoriu trebuie sa fie si macOS.
La vechile versiuni de Windows (inclusiv Windows 10), utilizatorii stiau ca acestea pot fi instalare fara probleme pe caclulatoare si laptop-uri mai vechi, pe care in trecut au rulat Windows 7, Windows 8 sau chiar Windows Vista sau XP. Odata cu lansarea Windows 11, Microsoft restrange mult modelele de calculatoare pe care poate fi instalat noul sistem de operare si pune accent mai mare pe securitatea datelor utilizatorilor introducand ca hardware requirements TPM 2.0 si Secure Boot (UEFI).
In plus, Windows 11 nu poate fi instalat decat pe un calculator cu minim 1GHz cu arhitectura 64-bit, 4 GB RAM, suport grafic pentru DirectX 12 si minim 64 GB liberi pe spatiul de stocare.
In ceea ce priveste instalarea Windows pe Mac, exista doi factori care vor face imposibila instalarea Windows 11 pe un Mac. Hardware si Firmware.
In primul rand, niciodata nu se va putea instala in mod nativ Windows (orice versiune) pe un Mac cu chip M1 sau oricare alta generatie de chip Apple silicon. Sisitemele de operare Windows sunt concepute pentru arhitectura procesoarelor Intel sau AMD.
Utilizatorii care au Mac sau MacBook cu procesoare Intel (fie ele si de generatie mai noua), vor putea instala in continuare pe ele Windows 10, insa cerintele hardware ale Windows 11 nu vor fi suportate de acestea. Si aici ne referim in primul rand la TPM – Trusted Platform Module – un chip de control si stocare al cheilor criptografice, pentru care Apple nu ofera suport. Oricat de nou ar fi un Mac (Intel), acesta nu va avea suport pentru standardul TPM 2.0, ceea ce-l face incopatibil cu Windows 11.
Apple ar putea sa faca un pas in spate si sa vina cu un upgrade de firmware prin care sa asctiveze suportul pentru TPM 2.0, inca este putin probabil sa se intample acest lucru, in condiitile in care Apple renunta cu pasi repezi la procesoarele Intel pe Mac, MacBook si iMac, in favoarea propriilor chip-uri (M1, in prezent) Apple silicon.
Cu atat mai putin ca Apple sa permita cumva sistemului de operare Windows o alternativa prin intermediul subsistemului de securitate Secure Enclave.
Utilizatorii care reusit sa instaleze Windows 11 pe Mac vor mai beneficia de acest sistem de operare pana cand va fi lansat pentru publicul larg, apoi va fi nevoie sa treaca inapoi la Windows 10.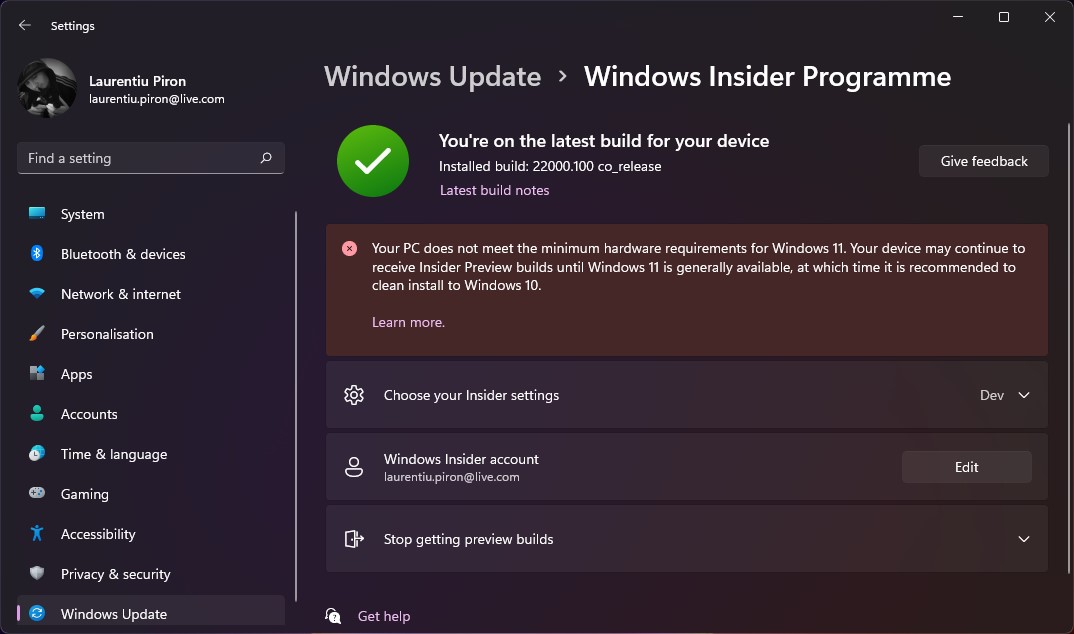 Your PC does not meet the minimum hardware requirements for Windows 11. Your device may continue to receive Insider Preview build until Windows 11 is generally available, at which time it is recommended to clean install to Windows 10.
Pentru multi utilizatori de Mac nu cred ca este o mare tragedie ca nu se Windows 11 nu va fi prezent pe Mac, insa pentru sunt multi posesoti de calculatoare si laptop-uri cumparate dupa 2018 pe sume deloc neglijabile, care nu au suport TPM 2.0 si nu indeplinesc cerintele hardware ale Windows 11. Foarte multe laptop-uri HP sunt in aceasta situatie, insa problema apare si la Asus, Acer si Lenovo.