Este foarte indicat sa avem sistemul de operare actualizat, mai ales atunci cand este vorba de un sistem Windows, care se stie ca este plin de vulnerabiliti.
Pe langa update-urile de securitate, cele care aduc imbunatatiri si noi functii in sistem, vin si update-urile driverelor. Update-uri pentru placa video intergrata (Intel), placa video dedicata, placa de sunet, de retea (LAN), camera web, etc drivers.
Este foarte bine ca si acestea sa fie actualizate, numai ca uneori mai apar si surprize neplacute. O versiune mai noua a unui driver sa functioneze cu probleme sau cu performante mai slabe decat vechiul driver sau cel original. In cele mai multe situatii functionarea defectuasa a unui driver actualizat apare la laptop-urile si calculatarele mai vechi, care ruleaza Windows 10.
Arhitectura sistemului de operare Windows 10 suporta in mare parte driverele originale pentru componentele hardware ale calculatorului sau laptop-ului, chiar daca acesta este vechi de 5-6 ani.  Insa daca prin intermediul Windows Update Center se gasesc actualizari, aceste componente hardware  vor primi cele mai noi versiuni de drivere. Versiuni care este posibil sa ruleze cu performante mai slabe decat versiunile mai vechi sau cele originale ale driverelor.
Un exemplu concret este update-ul de driver pentru placa video intergrata (Intel HD Graphics) pe un laptop Lenovo vechi de 5 ani si jumatate. Cu driverul original "Intel VGA Driver"  – o versiune din 2011 – performantele grafice in jocuri si aplicatii sunt mult mai mari decat cu driver-ul actualizat.
Problema este ca odata actualizat, reinstalarea vechii versiuni de driver peste cel actualizat nu este o solutie decat pana la urmatorul update sau restart al sistemului Windows 10. Ca sa mentinem permanent vechea versiune de driver pentru o anumita componenta hardware, avem optiunea sa-i dezactivam actualizarile si sa revenim la versiunea precedenta.
Cum revenim la versiunea precedenta a unui driver si cum dezactivam update-urile acestuia
Daca nu sunteti multumit de actualizarea primita pentru driver-ul unei componente hardware via Windows Update Center, aveti posibilitatea sa revenit la versiunea anterioara si sa dezactivati actualizarea la noua versiune.
Sa zicem ca este vorba de driver-ul actualizat al placii video integrate Intel HD Graphics.
Mergem in Computer Management > Device Manager, iar aici identificam componenta pentru care dorim sa facem downgrade de driver. In cazul nostru, Intel HD Graphics 3000.
Selectam componenta si facem click-dreapta, apoi click pe "Properties".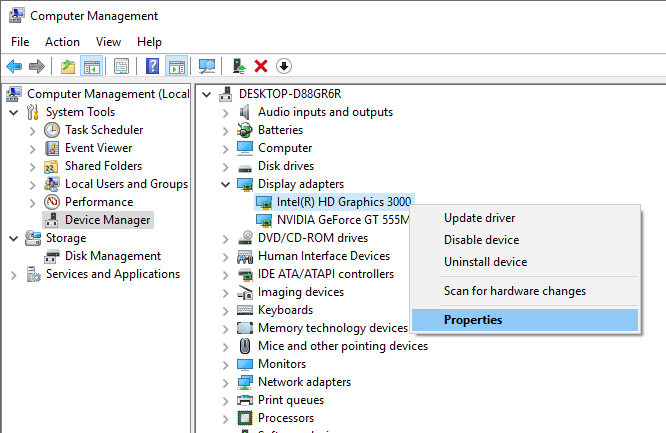 In panoul de proprietati al Intel HD Graphics 3000,  facem click pe tab-ul "Driver" apoi click pe butonul "Roll Back Driver".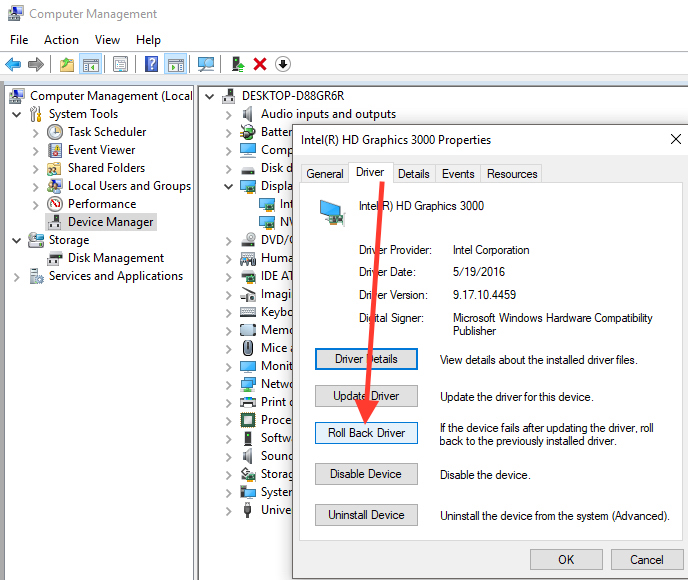 Aceasta optiune va dezinstala noul driver si-l va instala automat cel anterior. Bifati optiunea "Previous version of the driver performed better".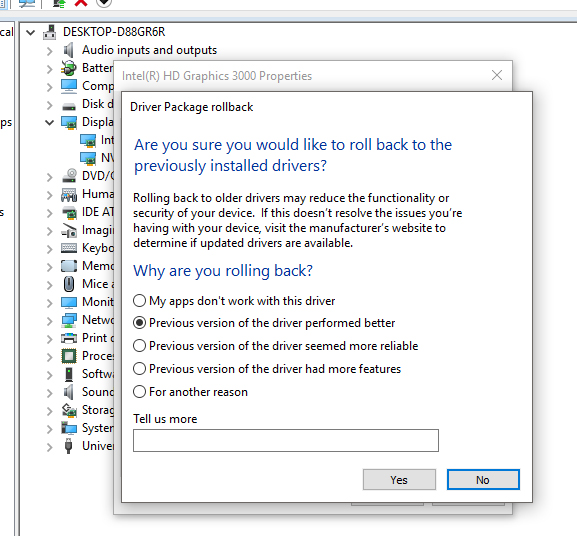 Apasati "Yes" pentru pornirea procesului de "roll back". Dupa finalizare, restartati sistemul de operare.
Sistemele de operare Windows 7 permit blocarea unui update din Windows Updates Center, insa Windows 19 are un sistem ceva mai agresiv care forteaza update-urile cu sa fara voia utilizatorului.
Cum dezactivam update-ul unui driver pe Windows 10