In cateva tutoriale mai vechi am aratat cum se poate crea si instala Windows 7 si Windows XP de pe USB Stick (Memory Stick) – tutorial 1 – tutorial 2 – tutorial 3.
ISO2USB este un utilitar asemanator aplicatiei WinToFlash, numai ca acesta ne ajuta sa cream memorii USB botabile cu imaginea de instalare a sistemelor de operare CentOS / RedHat.
Inainte de a ne apuca sa cream USB stick-ul cu imaginea de instalare, trebuie sa avem imaginea de instalare ISO sau DVD-ul de instalare al sistemului. In plus, un USB stick mai mare de 4GB. De preferat 8GB.
Cum cream USB stick bootabil cu CentOS / RedHat din ISO.
1. Download ISO2USB (utilitarul care face stick-ul bootabil si ne ajuta sa copiem fisierele de instalare din ISO)

2. Conectati si formatati memorie USB in sistem FAT32. (Merge si Quick Format).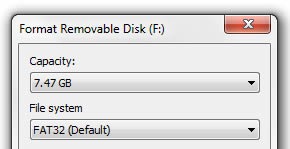 ATENTIE! In timpul formatarii toate datele de pe memoria stick vor fi sterse!
3. Rulati aplicatia ISO2USB. Selectati imaginea ISO de instalare si la "Drive" litera memoriei USB. Daca aveti mai multe memorii USB conectate, mergeti in "Computer" sa va asigurati ca porniti copierea pe stick-ul care trebuie.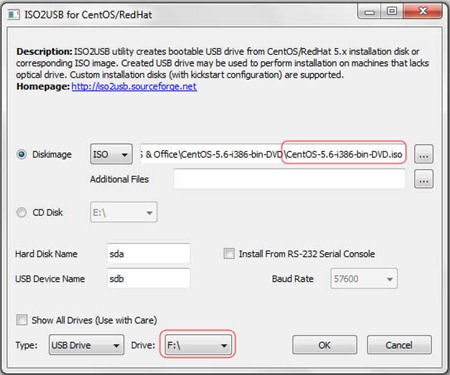 4. Apasati OK si asteptati pana se copiaza si se instalateaza bootloader-ul pe memoria USB.
Acest proces poate dura cateva minute. In functie de viteza de scriere a memoriei USB.
5. La final cititi cu atentie instructiunile de instalare CentOS de pe USB stick. Deconectati stick-ul si click "Exit".
Daca nu sunteti atenti la instalare si nu selectati ordinea partitiilor in "Advanced Bootloader", sunt sanse mari ca GRUB-ul sa fie instalat pe USB stick.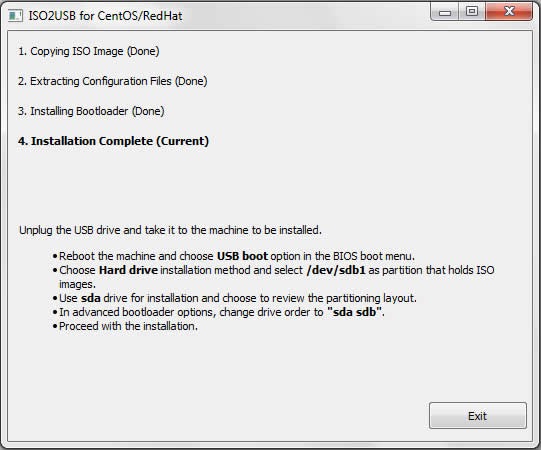 ISO2USB utility creates bootable USB drive from CentOS/RedHat 5.x installation disk or corresponding ISO image. Created USB drive may be used to perform installation on machines that lacks optical drive. Custom installation disks (with kickstart configuration files) are fully supported. – project page.
Stealth Settings – CentOS / RedHat 5.x to USB – ISO2USB.