Arhivele multi-part (formate din mai multe parti) sunt solutia perfecta atunci cand expediem sa trimitem via e-mail un fisier de dimensiuni mai mari decat limita acceptata de catre clientul de e-mail folosit, sau cand dorim sa uploadam pe un server/site un fisier foarte mare, sau atunci cand un fisier pe care dorim sa il pastram/transferam nu incape pe un singur dispozitiv de stocare (CD, DVD, Usb-Stick). Daca va aflati in vreuna dintre aceste situatii (sau alta care necesita impartirea unui singur fisier in mai multe arhive) si doriti sa creati o arhiva multi-part pentru a rezolva problema rapid si fara erori, urmatoarele informatii va pot fi de folos.
Arhivele multi-part sunt simplu de realizat si nu au nevoie de aplicatii speciale pentru a fi create, ci doar de WinRAR sau 7-zip, doua arhivatoare nelipsite de pe computerele utilizatorilor de Windows. Metoda de arhivare este aproape identica intre cele doua programe (exceptie faptul ca 7-zip nu poate crea arhive cu terminatia .rar), userii putand alege arhivatorul in functie de prferinte.
Cum putem crea arhive multi-part folosind WinRAR-ul?
dati click-dreapta pe fisierul pe care doriti sa il arhivati si selectati Add to archive
selectati terminatia pentru arhiva (zip sau rar) apoi, sub Split to volumes tastati dimensiunea pe care doriti sa o aiba partile de arhiva (de exemplu, daca fisierul este de 2GB si doriti sa il arhivati in parti de cate 15MB, tastati 15MB in campul de sub Split to volumes. Daca nu doriti ca arhiva sa fie impartita, lasati campul blank).
dati click pe OK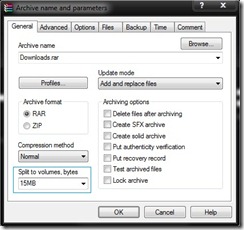 Cum putem crea arhive multi-part folosind 7-zip?
dati click-dreapta pentru fisierul de arhivat, apoi selectati Add to archive
alegeti terminatia pentru arhiva, apoi tastati dimensiunea pentru partile arhivei in campul de sub Split volumes
dati click pe OK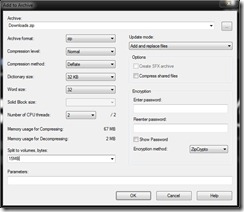 Dupa arhivare testati functionabilitatea partilor arhivei extragand continutul acestora pe hard-disk. Pentru a extrage continutul unei arhive multi-part dati click-dreapta pe prima parte din aceasta (valabil in cazurile in care formatul arhivei este 001, 002 sau part1.rar, part2.rar. Daca formatul arhivei este r00, r01, dati click-dreapta pe partea de arhiva cu extensia .rar) apoi selectati Extract to/Extract here. Succes!
STEALTH SETTINGS – HOW TO CREATE MULTI-PART ARCHIVES WITH WINRAR OR 7-ZIP
Cum putem crea o arhiva multi-part folosind WinRAR sau 7-zip