Desi Microsoft a intrododus inapoi in Windows 10 un meniu de Start, acesta este diferit fata de cel clasic, disponibil in Vista sau Windows 7. In primul rand, meniul de Start al Window 10 include si functii ale Start Screen-ului, utilizatorii putand fixa (pin) tile-uri ale aplicatiilor moderne in acesta (partea dreapta). De asemenea, anumite shortcut-uri (sau link-uri directe), disponibile in mod default in Start Menu in versiunile anterioare de Windows, lipsesc lipsesc din Start Menu in Windows 10: Control Panel, Default Programs, Personal folder etc.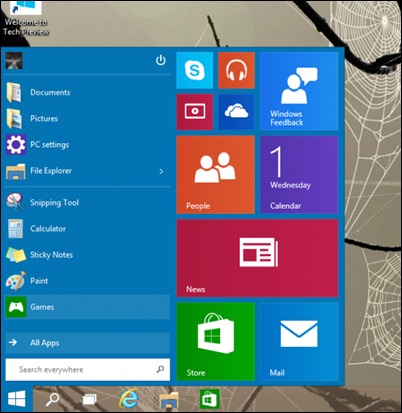 Din fericire insa, Windows 10 Start Menu le ofera utilizatorilor mai multe posibilitati de customizare, cum ar fi redimensionarea acestuia, schimbarea culorii de background, fixarea de tile-uri sau shortcut-uri in partea dreapta sau partea stanga a acestuia, sau adaugarea de link-uri sau item-uri speciale cum ar fi Control Panel, Downloads, Videos, This PC, Personal Folder etc.
Redimensionarea meniului de Start in Windows 10 se face foarte simplu, ducand cursorul mouse-ului in partea de sus (extrema) a acestuia si tragand in sus sau in jos de meniu.
De asemenea, fixarea de tile-uri sau shortcut-uri se face ca in Windows 7 sau Windows 8: se da click-dreapta pe acestea si se selecteaza Pin to Start.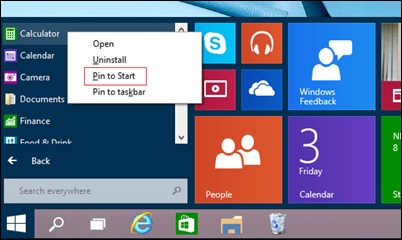 Tile-urile fixate in partea dreapta a meniului pot fi la randul lor redimensionate (utilizatorii pot alege din patru marimi predefinite: Small, Medium, Wide si Large), pot fi rearanjate in functie de preferintele utilizatorului (folosind drag&drop), iar live tile-urile pot fi oprite sau pornite, dupa preferinte.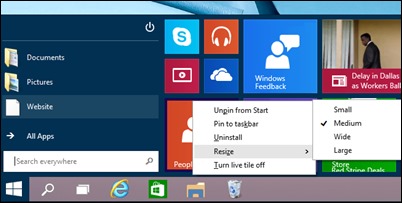 In plus, daca nu folositi aplicatiile moderne prea des sau preferati sa aveti un Start Menu curat si asemanator (oarecum) cu cel din Windows 7, puteti da unpin tuturor tile-urilor si shortcut-urilor fixate in partea dreapta a acestuia.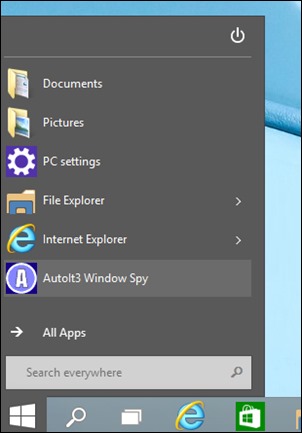 Folosind metoda Pin to Start, toate tile-urile/shortcut-urile vor fi fixate in partea dreapta a meniului de Start; daca doriti sa fixati anumite shortcut-uri in partea stanga a meniului, trageti shortcut-urile respective peste butonul de Start, si cand este afisat mesajul Pin to Start menu, dati drumul shortcut-ului (acesta va fi fixat in partea stanga a Start Menu).

Schimbarea culorii de background a meniului de Start (si implicit a Taskbar-ului si a marginilor ferestrelor) in Windows 10 se face dand click-dreapta pe un spatiu gol de pe acesta si selectand Personalize din meniul afisat. Apoi se selcteaza culoarea dorita (nu sunt foarte multe optiuni aici) din dialogul Color and Appearance afisat.
Pentru a adauga item-uri speciale in Windows 10 Start Menu (cum ar fi Control Panel sau This PC), dati click-dreapta pe un spatiu gol din meniu si selectati Properties. Apoi, in tab-ul Start Menu dati click pe butonul Customize.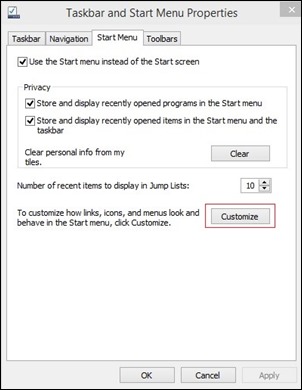 In dialogul Customize Start Menu afisat, bifati item-urile pe care doriti sa le fixati in partea stanga a meniului (pentru Control Panel puteti crea un Jump List cu sectiuni ale acestuia accesate frecvent).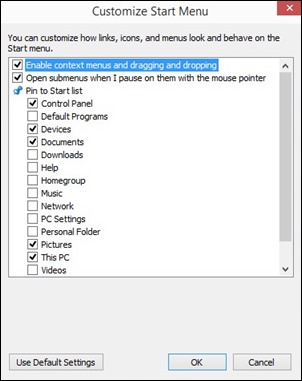 Nota: Meniul de Start din Windows 10 permite fixarea nu doar de tile-uri sau shortcut-uri, ci si de alte tip-uri de fisiere (imagini, arhive etc. ) si chiar si foldere.
STEALTH SETTINGS – How to customize Start Menu in Windows 10 Preview
Cum putem customiza meniul de Start in Windows 10 Preview