In Windows 8, aplicatiile moderne (instalate din Windows Store) nu puteau fi accesate de pe desktop (adica sistemul nu permitea crearea de shortcut-uri pentru respectivele aplicatii pe desktop), utilizatorii trebuind sa deschida Start Screen-ul pentru a lansa o astfel de aplicatie. In Windows 8.1 insa, aplicatiile moderne puteau fi fixate (pin) pe Taskbar pentru un acces mai rapid la acestea, desi nici in acest sistem nu era posibila crearea de shortcut-uri pe desktop.
Odata cu lansarea Windows 10, Microsoft facut cateva modificari importante in ceea ce priveste aplicatiile moderne, acestea putand fi lansate acum din meniul de Start (reintrodus in sistem special pentru utilizatorii de PC-uri) si rulate in ferestre, direct de pe desktop. De asemenea, desi aplicatiile moderne nu ofera optiuni gen Create a Shortcut sau Sent to Desktop cand se da click-dreapta pe acestea, utilizatorii care doresc sa creeze shortcut-uri pe desktop pentru aplicatiile moderne preferate pot face acest lucru, fara a apela la programe third-party, urmand instructiunile de mai jos.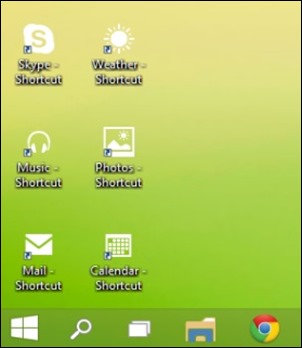 Cum adaugam shortcut-uri ale aplicatiilor moderne pe desktop in Windows 10 Preview?
deschideti Start Menu
apoi selectati o aplicatie moderna si trageti-o pe desktop pentru a crea un shortcut al acesteia (repetati pentru toate aplicatiile pentru care doriti sa creati shortcut-uri pe desktop)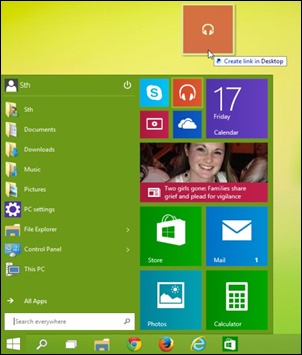 In cazul in care nu doriti sa creati shortcut-uri pentru aplicatiile moderne pe desktop-ul Windows 10 insa se intampla sa faceti acest lucru accidental, puteti dezactiva drag&drop in Start Menu:
deschideti Taskbar and Start Menu Properties (click-dreapta pe un spatiu gol pe Taskbar sau in Start Menu si selectati Properties din meniul afisat)
in tab-ul Start Menu dati click pe butonul Customize
apoi, in dialogul Customize Start Menu, debifati optiunea Enable context menus and dragging and dropping
Nota: Daca aveti activat Start Screen-ul in Windows 10 Preview, pentru a putea crea shortcut-uri ale aplicatiilor moderne pe desktop va trebui mai intai sa activati meniul de Start (in Taskbar and Start Menu Properties > Start Menu tab bifati optiunea Use the Start menu instead of the Start screen).
STEALTH SETTINGS – How to create desktop shortcuts for modern apps in Windows 10 Preview
Cum putem crea shortcut-uri pentru aplicatiile moderne pe desktop-ul Windows 10 Preview