"Start PXE over IPv6/IPv4. Press [Esc] to exit." este un mesaj pe screen negru care apare in special pe laptop-uri (DELL, Toshiba, Lenovo, ACER, Asus), insa uneori PC-urile nu sunt scutite de asa ceva.

Luat de multi ca fiind un mesaj de eroare al Windows 7, Windows 8, Windows 8.1 sau chiar Windows 10, "Start PXE over IPv6/IPv4" este de fapt un mesaj de informare care nu are nici cea mai mica legatura cu sistemul de operare. Acesta apare practic imediat dupa restart sau dupa ce este pornit calculatorul.
Ce inseamna PXE?
PXE sunt initiale de la Pre eXecution Environment. In limbajul de IT acesta se citeste "Pixie" si reprezinta metoda de bootare / pornire a unui calculator dintr-o imagine din reteaua interna (LAN). Ca sa fim mai exacti, cu ajutorul PXE putem boota pe laptop sau PC imaginea unui sistem de operare. Conditia este ca aceasta imagine sa fie stocata pe un hard disk din LAN.  Pe sistemele mai vechi aceasta optiune se mai numeste si Network Boot sau Booting from LAN.
Cum putem sa trecem de Start PXE over IPv6/IPv4 si sa pornim sistemul de operare.
In mod normal, BIOS-ul unui laptop sau PC este setat in asa fel incat lista cu prioritatile de boot (boot device order sau boot priority option) sa fie: CD/DVD, HDD, USB Flash Drive si apoi Network Boot sau PXE. Din cauza unor modificari in BIOS, cel mai probabil s-a setat Network Boot / PXE inaintea hard disk-ului, iar la pornire laptop-ul asteapta sa booteze o imagine sau un sistem de operare din retea / internet. Pentru a schimba ordinea unitatilor de  bootare, va trebui sa intrati in BIOS si sa cautati optiunea "Boot Priority". Ca sa accesati BIOS-ul va trebui mai intai sa opriti PC-ul de tot (la laptop-uri oprirea la "rece" se face tintand apasat butonul de power cateva secunde. 10-15 secunde). Dupa pornire apasati reptat tasta F2, F12, F8, Del sau Esc. Aceasta tasta poate varia in functie de modelul laptop-ului dvs. De exemplu la laptop-urile Toshiba tasta de accesare BIOS este F2, iar cu tasta F12 intrati direct in meniul Boot Priority de unde puteti alege ordinea de boot, fara a mai fi nevoie sa intrati in BIOS.
Odata intrati in BIOS si ajunsi la meniul Boot Priority, selectati ca prima unitate HDD/SSD sau CD/DVD, daca doriti pe viitor sa instalati un sistem de operare de pe DVD. Dupa ce ati efectuat aceste modificari in ordinea de boot, apasati tasta F10 pentru a salva modificarile si a reporni calculatorul. Daca ati setat ca prima unitate de boot HDD sau SSD, atunci dupa pornire se va incarca automat Windows-ul instalat pe sistem.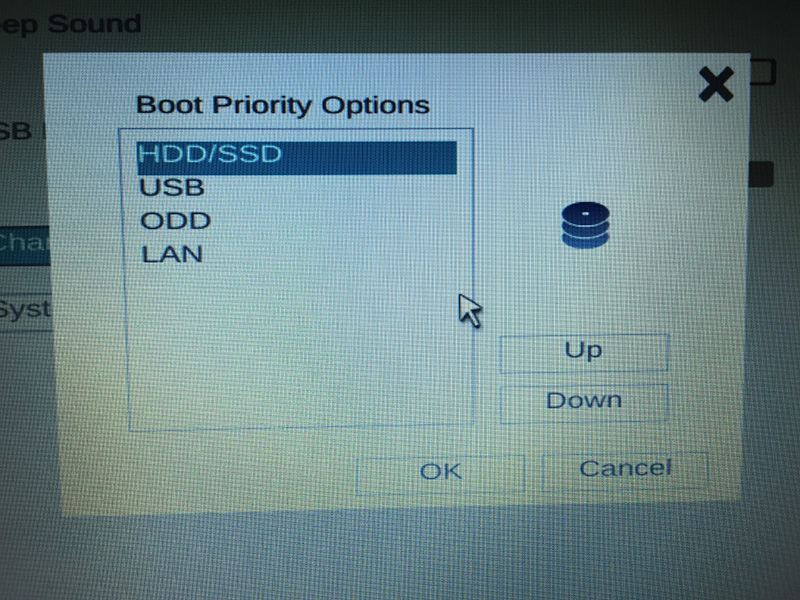 In cazul in care ati setat ca sistemul sa booteze mai intai de pe hard disk sau SSD, iar mesajul Start PXE over IPv6/IPv4 apare din nou la pornirea calculatorului, sunt semne de ingrijorare. Fie sistemul de operare are o problema grava si nu mai poate fi repornit. In aceasta situatie este obligatorie repararea sistemului Windows cu DVD-ul de instalare, fie si mai grav…hard disk-ul sau SSD-ul are o problema si nu mai poate fi citit. Ori incercati o reinstalare a sistemului de operare de pe DVD / USB Flash si sa verificati daca hard disk-ul mai este vizibil la procesul de instalare, fie folositi un sistem live Linux sau Live Windows (via Hiren de exemplu) prin care sa verificati starea hard disk-ului de pe laptop / pc.
Start PXE over IPv6/IPv4. Press [Esc] to exit.
Start PXE over IPv6/IPv4. Press [Esc] to exit. [Windows / PC Error]