Pentru utilizatorii Windows 7 care doresc sa aiba acces mai rapid la My Computer le recomandam sa adauge un shortcut catre acesta in Taskbar. Deoarece metoda obisnuita de a adauga shortcut-uri in Windows 7 Taskbar nu functioneaza si pentru My Computer iar prin drag & drop acesta este adaugat in Windows Explorer jumplist, urmatoarele instructiuni va vor arata cum puteti rezolva problema "fixarii" My Computer in Taskbar.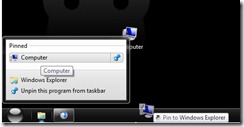 Cum putem da pin la Computer in Windows 7 Taskbar
in primul rand cream un shortcut nou (chiar daca in meniul de click-dreapta al My Computer exista optiunea de Create Shortcut, nici shortcut-urile create in acest fel nu pot fi "prinse" de Taskbar) – click-dreapta pe monitor > New > Shortcut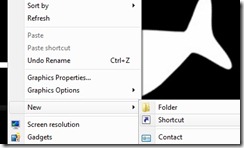 apoi, in fereastra nou deschisa, in campul de sub Type the location of the item, dati Copy/Paste la urmatorul rand: %SystemRoot%explorer.exe shell:MyComputerFolder si dati click pe Next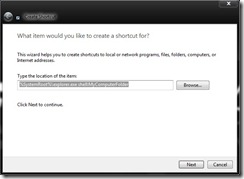 dati un nume shortcut-ului nou creat (de exemplu My Computer), apoi dati click pe Finish.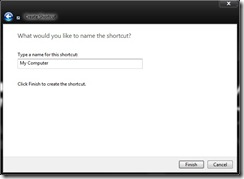 apoi dati click-dreapta pe shortcut-ul nou creat si selectati Properties din meniu
in tab-ul Shortcut dati click pe Change Icon
in ferastra nou deschisa, dati Paste urmatorului rand in campul de sub Look for icons in this file: %SystemRoot%system32imageres.dll (apoi dati Enter)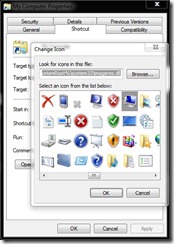 selectati icon-ul pentru My Computer, apoi dati click pe OK, si apoi iar OK
pentru a adauga My Computer in Taskbar, click pe shortcut-ul nou creat si drag & drop peste Taskbar sau dati click-dreapta pe acesta si selectati Pin to Taskbar.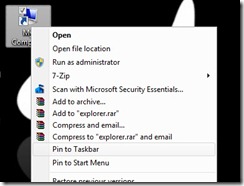 Nota: Testat pe Windows 7 Ultimate.
Cum sa adaugam My Computer in Taskbar in Windows 7 (Pin Computer to Taskbar)