Chiar daca functionalitatea implicita a butonului de Power al computerului este aceea de a inchide computerul atunci cand este apasat, in Windows 7 si Windows 8 utilizatorii au posibilitatea de a modifica acest lucru din setarile sistemului. De exemplu, unii utilizatori probabil ar prefera ca atunci cand apasa butonul de Power, computerul sa intre in modul Sleep sau in hibernare, astfel incat sistemul sa mentina deschise aplicatiile si fisierele folosite de utilizator iar atunci cand se deschide din nou computerul, utilizatorul sa poata relua lucrul de unde l-a lasat.
Cum modificam ce face butonul Power in Windows 7 si Windows 8?
deschideti Control Panel (din Start Menu sau meniul WinX) si navigati catre Power Option (sub Hardware and Sound)
in panoul din stanga, dati click pe optiunea Choose what the power button does
in dreptul optiunii When I press the power button, selectati din meniulrile drop-down afisate ce actiune vreti sa efectueze apasarea butonului de Power atunci cand computerul functioneaza pe baterie sau cand este conectat prin cablu la o sursa de curent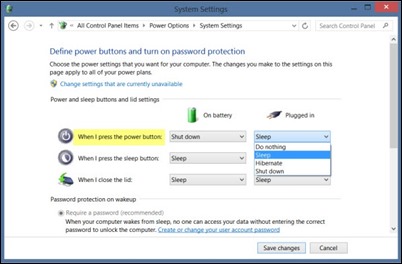 aveti la dispozitie 4 optiuni pentru fiecar caz: Do nothing, Sleep, Hibernate si Shut down
dupa ce selectati actiunea dorita, dati click pe Save Changes pentru a salva modificarile facute.
STEALTH SETTINGS – Change what Power button does in Windows 7/Windows 8
Modifica ce face butonul de Power al computerului in Windows 7/Windows 8