DNS Cache (Caching name servers), este un proces prin care este stocata o interogare DNS a unei aplicatii (Internet Browser, client FTP, Yahoo! Messenger, etc …). In mare, acest proces ajuta serverele care tin numele de domenii, sa stocheze pentru o perioada de timp (determinata de configuratia serverului) date ale interogarii pe calculatorul utilizatorului final. In acest fel, se obtine o viteza mai mare de raspuns a serverului web sau a serverului care tine date despre o aplicatie si se creaza o punte de comunicare intre PC si server.
O serie de aplicatii folosesc cache DNS-ul pe perioada rularii aplicatiei pentru a verifica update-urile, noutatile sau chiar validitatea licentelor.
Daca sunteti curiosi sa vedeti ce servere au cache DNS pe PC-ul dvs. deschideti (cu privilegii de administrator) un Command Prompt (Ctrl+Win > cmd > Enter) si tastati:
ipconfig /displaydns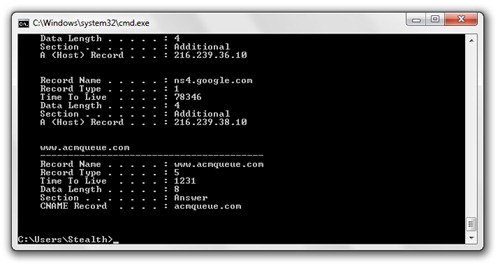 Pentru a curata DNS Cache, tastati in CMD :
ipconfig /flushdns
In CMD va trebui sa primiti mesajul:
Windows IP Configuration

Successfully flushed the DNS Resolver Cache.
Activare si dezactivare DNS cache (DNS Client service) :
net stop dnscache
net start dnscache
Referinta DNS Cache (Recursive and caching name server) (Wikipedia).
Stealth Settings – CLEAN, ENABLE & DISABLE DNS CACHE.
Curatati DNS Cache pentru a va proteja confidentialitatea. (Clean, Enable, Disable DNS Cache – Windows XP, Vista & Windows 7)