Tutorialul se adreseaza utilizatorilor de Mac OS X,  care au nevoie sa imparta un numar mare de fisiere dintr-un folder, in mai multe foldere.
In cazul nostru, problema arata in felul urmator:
Avem un folder "PSD" care contine 2105 fisiere, iar din aceste 2105 fisiere dorim sa cream foldere care sa nu contina fiecare mai mult de 300 de fisiere.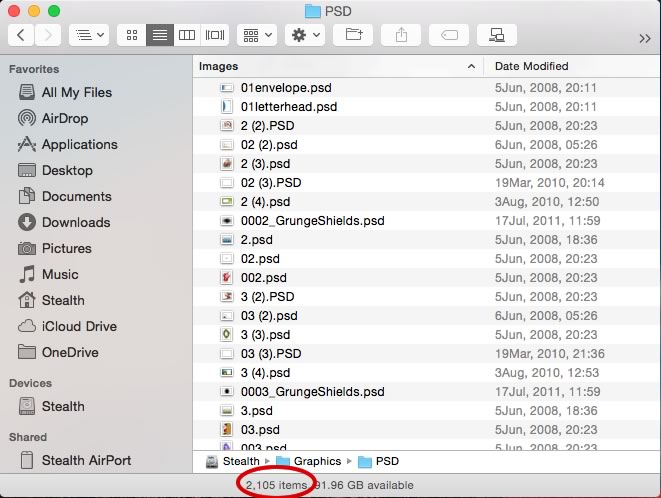 Pentru a realiza acest lucru, cel mai simplu si la indemana ne este linia de comanda din Terminal.
1. Deschidem Terminal si navigam la folderul in care sunt fisirele pe care dorim sa le impartim. In cazul nostru comanda va fi :
cd /Volumes/Stealth/Graphics/PSD.
2. Vizualizam numarul de fisiere si foldere existente in locatia curenta:
ls -l | wc -l .
Inainte de a trece la pasul 3 este bine sa ne asiguram ca in folder nu exista fisiere blocate (locked files). Daca acestea exista, in timpul executiei o sa primim mesaj de eroare "Operation not permitted". Cu ajutorul comenzii "chflags -R nouchg *" vom debloca toate fisierele din locatia curenta (Unlock multiple files in Mac OS X).
3. Linia de comanda prin care impartim totalul de fisiere din folderul curent, in foldere care sa contina un numar definit de fisiere:
i=0; for f in *; do d=psd_$(printf %03d $((i/300+1))); mkdir -p $d; mv "$f" $d; let i++; done
Unde "psd_" este prefixul folderelor care se vor crea, si "300" este numarul de fisiere maxim per folder. Acesti parametrii pot fi modificati in functie de preferintele dumneavoastra.
Iata cum arata acest tutorial in Terminal:

Stealth Settings – Split a folder with thousands of files into multiple sub-folders.
Acest tutorial a fost testat si realizat pe MacBook Pro cu OS X Yosemite.
[Mac OS X] Cum putem imparti un numar de fisiere care apartin aceluiasi folder, in mai multe foldere