In foarte multe tutoriale care implica modificare de registri, gasim scripturi .reg (la rularea carora informatiile din acestea sunt introduse in registrii de sistem) care ajuta la rezolvarea anumitor probleme ale sistemului sau ofera anumite functionalitati acestuia.
In mod implicit, scripturile .reg sunt asociate cu editorul de registri (Registry Editor), iar atunci cand un fisier .reg este rulat, regedit cere confirmare, apoi executa comenzile continute de fisier. Uneori insa, atunci cand incercam sa rulam un fisier .reg, acesta se deschide in Notepad, afisand informatiile continute in loc sa le introduca in registrii sistemului.
Ce anume cauzeaza deschiderea automata a fisierelor .reg cu Notepad-ul?
fie s-a asociat Notepad-ul cu fisierele cu extensie .reg folosind optiunea Open with… din meniul de click-dreapta
fie s-a folosit o aplicatie terta pentru a modifica modul de deschidere a fisierelor .reg (de obicei aceasta setare este facuta din motive de securitate, pentru a evita executarea accidentala a unor scripturi .reg)
fie setarile de asociere a fisierelor .reg au fost corupte in editorul de registri din cauza unui Registry Cleaner sau a unui script .reg incorect
Cum anume remediem problema deschiderii automate a scripturilor .reg cu Notepad?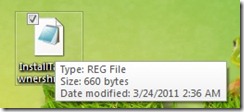 Pentru cei care doresc sa foloseasca acest gen de scripturi si sunt iritati de asocierea fisierelor .reg cu Notepad, pot rezolva aceasta problema folosind una dintre urmatoarele metode:
1. Folositi optiunea Merge din meniul de click-dreapta al scripturilor .reg – in acest fel evitati executarea accidentala a altor scripturi prin "clasicul" dublu-click, dar in acelasi timp puteti executa scripturile pe care chiar doriti sa le executati.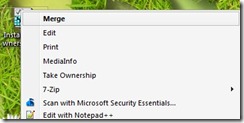 2. Folositi Registry Editor pentru a importa informatiile continute de scripturile .reg in registrii de sisitem (click pe File in regedit si selectati Import)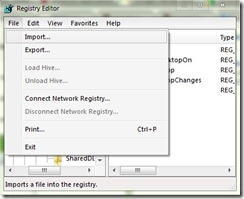 3. Folositi Command Prompt (obligatoriu cu privilegii de administrator) pentru a reasocia fisiere .reg cu regedit.exe – tastati cmd in Search-ul din Start Menu, dati click dreapta pe acesta si selectati Run as Administrator, apoi scrieti comanda
assoc.reg=regfile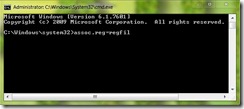 4. Folositi aceeasi optiune Open With din meniul de click-dreapta, pe care probabil ati folosit-o si atunci cand ati asociat fisierele .reg cu Notepadul – asadar, click-dreapta pe fisier > Open with > Choose default program, apoi selectati Registry Editor.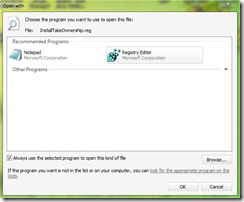 In cazul in care Registry Editor nu apare in lista pentru Default Programs, dati click pe Browse, tastati %windir%regedit.exe in campul din dreptul File name apoi dati click pe Open; sau navigati in folderul C:Windows si selectati regedit.exe. Inainte sa dati click pe OK, aveti grija sa bifati Always use the selected program to open this kind of file.
STEALTH SETTINGS – Fix association of .REG files with Notepad in Windows
Rezolva problema asocierii fisierelor .REG cu Notepad in Windows