Facebook a anuntat ca in curand va introduce un nou feature in aplicatia mobila pentru Android si iOS, Nearby Friends, prin intermediul caruia prietenii isi pot afla unul altuia locatia exacta atunci cand se afla in apropiere. Feature-ul are caracter optional, si va fi dezactivat in mod default, astfel cei care sunt ingrijorati de o posibila incalcare a intimitatii nu trebuie sa se alarmeze (locatia nu va fi facuta publica in reteaua de socializare decat daca alegeti sa activati acest feature).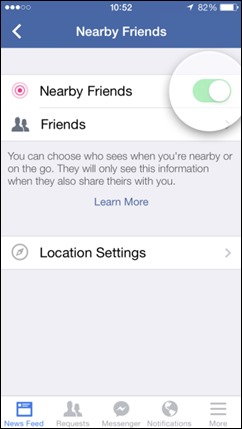 Nearby Friends is an optional feature. You can choose who can see if you're nearby (for example: your friends, close friends, or a specific friends list) and you can turn it on and off at any time.
Pentru ca locatia dvs sa fie aflata de prietenii de pe Facebook aflati in apropiere, atat dvs cat si respectivii prieteni trebuie sa aveti activat Nearby Friends. De asemenea, puteti configura ca numai anumiti prieteni sa va poata afla locatia, si doar pentru un timp limitat (de exemplu, doriti ca locatia dvs sa fie vizibila doar pentru un anumit contact, pentru o perioada de 10 minute. Cand acest timp expira, locatia dvs nu v-a mai fi vizibila pe harta, serviciul dezactivandu-se automat).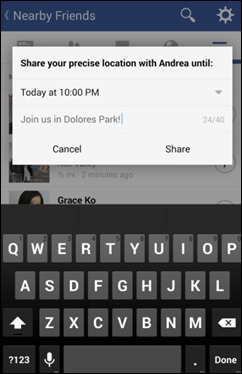 Tot prin intermediul acestui feature, Facebook le permite utilizatorilor sa afle unde calatoresc prietenii acestora, pentru a le trimite diverse recomandari (in cazul in care acestia deja cunosc locatiile in care se afla prietenii respectivi).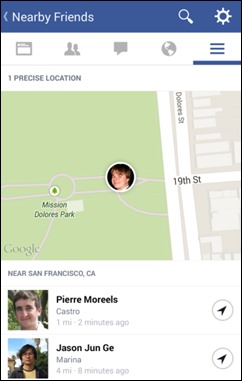 Momentan, Nearby Friends este disponibil doar in SUA, insa cel mai probabil Facebook va integra acest feature si pentru utilizatorii din alte regiuni ale lumii mai tarziu in acest an.
STEALTH SETTINGS – New feature for Facebook mobile app: Nearby Friends
Un nou feature pentru aplicatia mobila Facebook: Nearby Friends