Daca va numarati printre cei care au alergie la monitoarele incarcate si care fac exces de zel (:P) in incercarea de a le mentine nepatate de orice urma de icon, shortcut etc, dar in acelasi timp vreti ca accesul la aplicatiile/folderele importante sa fie cat se poate de rapid, Windows 7 va ofera solutia optima: posibilitatea de a "lipi" aproape orice shortcut de Taskbar. Adaugand la Taskbar shorcut-uri catre aplicatiile cele mai "uzate", aveti tot ce va trebuie la distanta de un click si, in plus, puteti sa va pastrati Desktopul fara pata :). Sau, aproape fara pata. Pentru ca unele programe sau foldere nu se lasa convinse sa paraseasca Desktop-ul in favoarea Taskbar-ului printr-un simplu drag&drop, situatie intalnita si in cazul Recycle Bin.
Pentru ca stergerea Recycle Bin de pe Desktop nu este recomandata (testat pe propria piele), solutiile mai la indemana ar fi ori sa il plasati undeva intr-un colt al monitorului si sa incercati sa-l ignorati, ori sa il adaugati in meniul Windows Explorer (pin to Windows Explorer).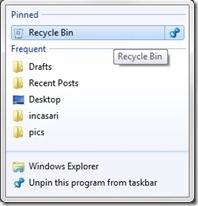 Sau, eventual, puteti urma pasii descrisi mai jos pentru a adauga un shortcut catre Recycle Bin la Taskbar:
1. Dati click-dreapta pe Desktop; din meniu selectati New apoi Shortcut.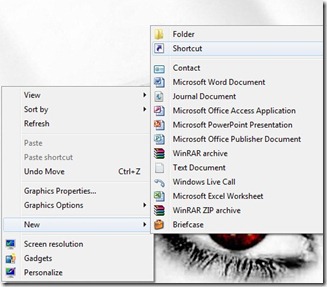 2. La location type tastati explorer.exe shell:RecycleBinFolder apoi dati Next si denumiti shortcut-ul oricum doriti (de preferat Recycle Bin :P)
3. Dati click-dreapta pe shortcut-ul creat si selectati Properties, apoi dati click pe butonul Change Icon.
4. In Look for icons in this file tastati %SystemRoot%system32imageres.dll apoi selectati iconul pentru Recycle Bin, Apply si OK.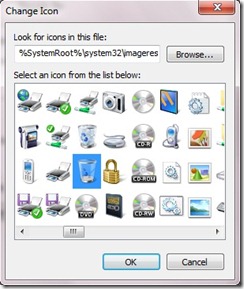 Et voila! Aveti un shortcut catre Recycle Bin, complet functional, pe care il puteti trage in Taskbar (drag & drop) sau puteti da click dreapta pe el si selectati Pin to Taskbar.
Atentie! Chiar daca ati adaugat un Recycle Bin shortcut la Taskbar, nu stergeti Recycle Bin de pe Desktop! Pentru a ascunde icon-ul acestuia debifati Show Desktop Icons din Context Menu (click-dreapta pe Desktop->View).
Windows 7 tip: Adauga Recycle Bin la Taskbar [Pin to Taskbar]