Nu stiu exact cine ar vrea sa dispara ceasul, setarile de volum audio, indicatorul de baterie (valabil pentru notebook) si reteaua din system tray (systray), dar de Action Center sunt sigur ca se vor gasi cativa. Aceste optiuni si setari sunt ale sistemului de operare si au iconitele localizate in partea dreapta a Taskbar-ului.

Remove / Hide Clock, Volume Settings, Network, Battery Status & Action Center from System Tray (Systray)
1. Mergem in Start Menu, iar in bara de "Search programs and files" tastam "icon taskbar", iar din lista care apare sub "Control Panel" deschidem "Show or hide volume (speaker) icon on the taskbar".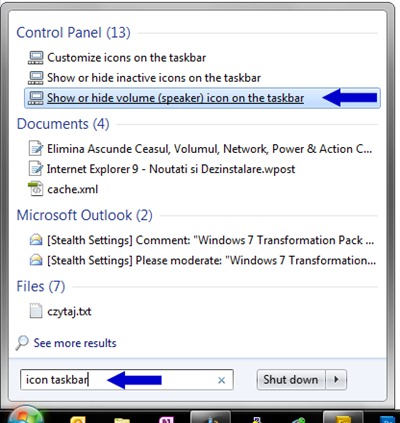 2. In panoul care se va deschide, "Turn system icons on or off", selectam "On" or "Off" la elementele care dorim sa dispara din taskbar systray.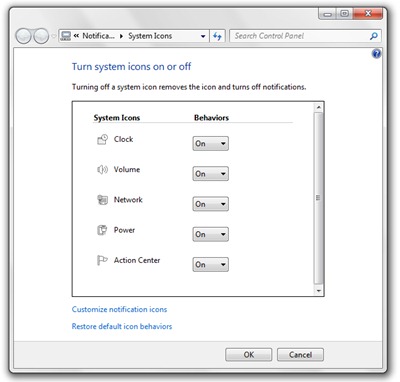 3. Click "OK" pentru a salva setarile.
Iata cum arata taskbar-ul in systray fara iconitele Clock, Volume, Network, Power si Action Center.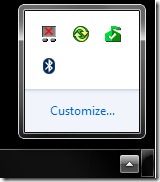 Dupa cum puteti observa in imaginea de mai sus, iconitele de system au fost ascunde de tot, ele nefiind prezente nici in hidden icons area.
Eliminarea acestor iconite nu va afecta cu nimic functionarea sistemului de operare, insa eliminarea cesului din coltul dreapta-jos al ecranului va poate face sa intarziati la o intalnire :-)
Aceast tutorial a fost testat pe Windows 7 si cred ca este valabil si pentru Windows Vista. Nu stiu sigur.
Stealth Settings – Remove taskbar system tray icons in Windows 7.