Dintre noile feature-uri ale Windows 8 face parte si mentenanta automata a sistemului, numita si Regular Maintenance, care verifica daca software-urile trebuiesc updatate sau daca sistemul are nevoie de diagnostice (daca exista erori de sistem), si executa scanari ale acestuia in mod periodic pentru a mentine securitatea optima. Windows 8 Automatic Maintenance se asigura ca task-urile de mentenanta sunt executate la o ora specificata (doar in cazul in care sistemul este in idle). Daca doriti sa modificati ora default pentru mentenanta automata, sau considerati ca nu aveti nevoie de aceasta si doriti s-o dezactivati, atunci instructiunile de mai jos va vor fi de ajutor.
Modificati timpul programat pentru mentenanta automata a sistemului in Windows 8
pentru a modifica timpul specificat pentru mentenanta automata de sistem deschideti Action Center din Control Panel (sau dati click pe iconita Action Center din systray, apoi selectati Open Action Center)
apoi dati click pe sageata din dreptul Maintenance, iar sub Automatic maintenance dati clik pe Change maintenanace settings
in mod default, timpul specificat pentru mentenanta este 3:00 AM, insa puteti schimba ora cu una mai potrivita pentru dvs. Optional, puteti activa sau dezactiva si optiunea Allow scheduled maintenance to wake up my computer at the scheduled time (pentru a permite sau nu permite mentenantei automate sa scoata sistemul din idle)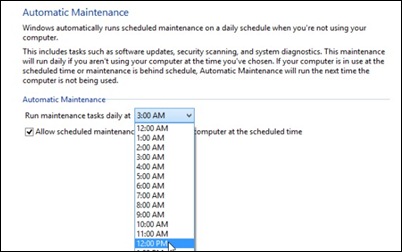 dupa ce ati facut modificarea, dati click pe OK
Dezactivati mentananta automata in Windows 8
daca doriti sa dezactivati de tot Windows 8 Automatic Maintenance, puteti face acest lucru din utilitatea integrata in Windows, Task Scheduler (tastati task schedule in Start Screen, selectati Settings de sub campul de Search, apoi dati click pe rezultatul afisat)

in panoul din stanga navigati catre Task Scheduler Library > Microsoft > Windows > TaskScheduler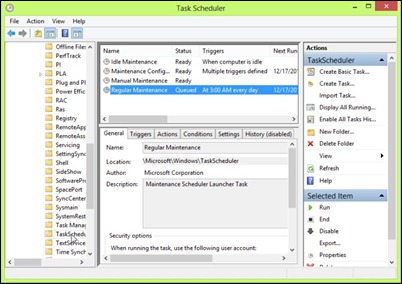 in panoul din mijocul ferestrei, dati click-dreapta pe Regular Maintenance si selectati Disable din meniu
In cazul in care veti dori vreodata sa reactivati mentenanta automata a sistemului, urmati pasii de mai sus si selectati Enable din meniul afisat.
STEALTH SETTINGS – How to change scheduled time or disable Windows 8 Automatic Maintenance
Cum putem modifica timpul de programare sau dezactiva Windows 8 Automatic Maintenance