Windows 7 are un design foarte simplu, iar majoritatea tool-urilor si optiunilor din Windows 7 pot fi accesate din Control Panel sau direct din Start Menu > "Search programs and files" (daca stim numele aplicatiei sau optiunii). O alta varianta de acces la setarile Windows 7 si la optiunile avansate, este GodMode. Un shortcut care deschide un adevarat "Centru de Comanda" al sistemului de operare. (Detalii GodMode)
Cea mai la indemana varianta pentru un user care foloseste frecvent anumite optiuni si tool-uri ale Windows-ului, este shortcut-ul pe Desktop (Spatiul de Lucru), Start Menu sau pe TaskBar.
Cum cream shortcut-uri pe Desktop pentru optiuni si/sau tool-uri ale Windows 7.
Daca dorim sa cream un shortcut de Desktop care sa ne deschida Advanced Power Settings, Add/Remove Programs, Windows Registry Editor, Windows Security Center sau alt panou de optiuni / comenzi, in primul rand va trebui sa cunoastem "linia de comanda" / "target-ul" care sa deschida panoul dorit de noi si apoi sa urmam cativa pasi simpli pentru a crea shortcut-ul pe Desktop.
1. Sa zicem ca dorim sa cream un shortcut pentru Advanced Power Settings. Optiune care ne ajuta sa administram resursele energetice ale laptop-urlui / notebook-ului pentru a prelungi perioada de viata a bateriei. Pentru a face acest lucuru, click-dreapta pe Desktop > "New" > "Shortcut".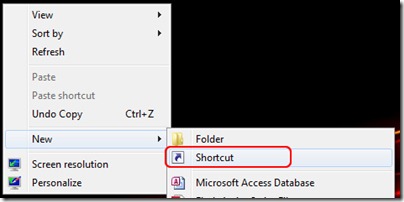 2. In campul de sub "Type the location of the item:" scriem "control powercfg.cpl,,1" apoi click pe "Next".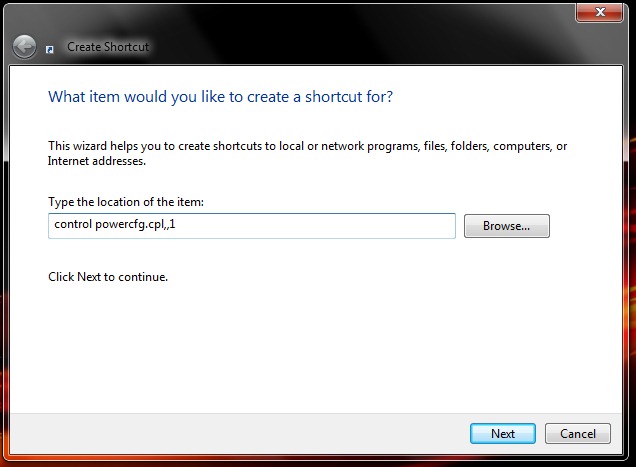 3. In campul urmator dam un nume shortcut-ului (Power Settings) si click pe butonul "Finish".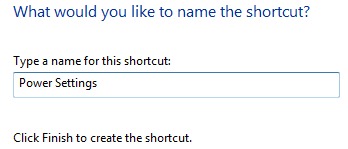 Pe Desktop se va salva un nou shortcut care ne va duce direct la setarile avansate ale planului energetic.

In acelasi fel putem crea shortcut-uri pentru Windows Registry Editor, Add/Remove Programs (acces la rapid pentru dezinstalare de programe), Windows Security Center, Windows Event Viewer sau catre alt panou de optiuni si setari al Windows. Tot ce trebuie sa facem este ca la "Type the location of the item" sa trecem calea comenzii / executablilul care sa deschida panoul de optiuni dorit de noi.
Windows Registry Editor : regedit.exe
Windows Security Center: wscui.cpl
System Information: msinfo32.exe
Windows Event Viewer: eventvwr.exe
Performance Monitor: perfmon.exe
O lista in care veti gasi destule comenzi rapide pentru va crea shortcut-uri, este la MS-DOS – Windows Command Prompt (Windows 95, 98, XP, Vista & 7).
Acest tutorial este aplicabil pe sistemele de operare Microsoft Windows XP, Windows Vista si Windows 7.
Stealth Settings – Create Custom Control Panel Shortcuts in Windows 7.