In urma cu aproximativ trei saptamani, Microsoft a schimbat statusul de upgrade la Windows 10, din "optional" in "recomandat". Acest lucru inseamna ca acest update se poate instala si fara acordul utilizatorului. Mai exact, foarte multi utilizatori de Windows 7, Windows 8 si Windows 8.1, s-au trezit dupa update in backgroud si restart, ca au pe PC-uri Windows 10. Aceste sisteme de operare au setat ca default in Update Center "install all recommended updates".
Lansat ca upgrade gratuit in vara lui 2015, Windows 10 a devenit aproape obligatoriu in aceasta primavara. O decizie putin ciudata si agresiva a Microsoft, de a forta utilizatorii sa foloseasca un anumit sistem de operare. Pe aceasta tema s-au adunat in scurt timp zeci de mii de comentarii negative la adresa Microsoft. Si pe buna dreptate. Pe langa faptul ca se face update la un nou sistem de operare fara voia utilizatorului, partea si mai tragica (si fara sa exageram) este ca restartul pentru instalarea update-ului vine fara acordul utilizatorului. Imaginati-va ca lucrati cateva ore sau zile la un proiect important si aveti deschise cateva programe de lucru, care se inchid subit, fara a va salva nimic din munca dvs. Multora li s-a intamplat acest lucru si nu au fost incantati deloc.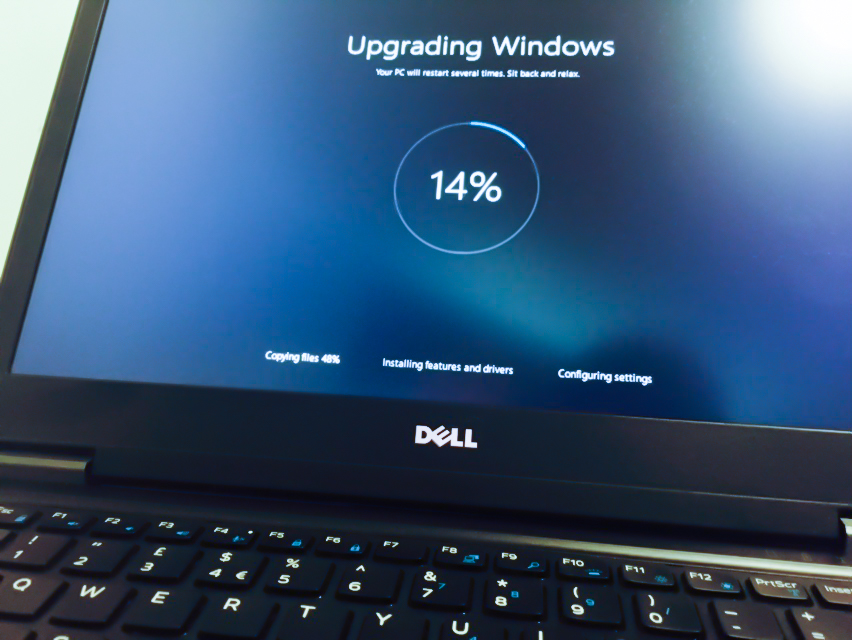 Exista totusi doua variante prin care acest upgrade automat ar putea fi blocat, iar utilizatorii de Windows 7, Windows 8 si Windows 8.1 ar putea sa stea fara grija ca intr-o zi se vor trezi din senin cu Windows 10 pe PC-uri sau laptopuri.
Prima varianta prin care putem preveni upgrade-ul automat la Windows 10, este sa schimbat setarile de updates din Windows 7.
Control Panel > System and Security > Windows Update, apoi click pe link-ul "Change Settings" in partea stanga,

In urmatorul panou de optiuni care se deschide, setati ca sistemul dvs. sa verifice daca sunt update-uri noi, dar sa NU le descarce si sa le instaleze automat. Aceasta setare se face pentru update-urile importante. Important Updates.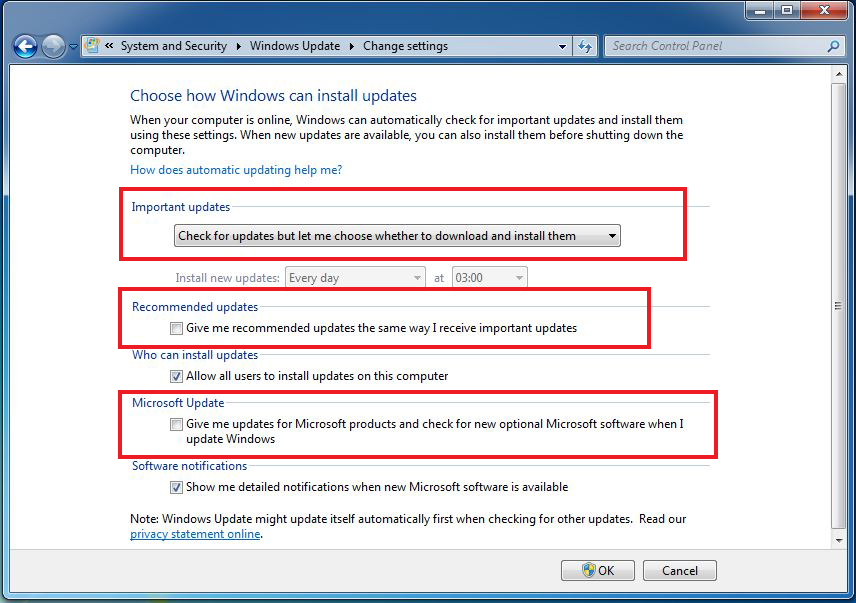 Tot de aici, este bine sa dezactivati "Recommended updates" si "Microsoft Update". Click OK pentru a salva modificarile.
In continuare o sa primiti update-uri pentru Windows, cu diferenta ca ele nu vor mai fi descarcate si instalate automat. Veti putea intra oricand doriti in Windows Update pentru a va alege singuri ce update-uri doriti sa fie instalate pe sistem.
O a doua metoda de a bloca upgrade-ul automat la Windows 10, este aplicatia Never10. Asa cum sugereaza si numele, Never10, s-ar traduce prin "Niciodata Windows 10". Easily Control Automatic and Unwanted Windows 7 & 8.1 Upgrading to Windows 10. Never10 este o aplicatie 100% gratuita, care ajuta utilizatorii sa dezactiveze upgrade-urile de Windows pentru sistemele de operare Windows 7 si Windows 8.1.
Numele de "Never 10", este ales putin cam exagerat, pentru ca aplicatia da utilizatorului posibilitatea sa reactiveze oricand doreste, update-urile la versiunile noi de Microsoft Windows.

Download Never 10 – external link.
Aplicatia este compatibila numai pentru sistemele de operare Windows 7 si Windows 8.1, Interfata Never 10 este foarte intuitiva si poate fi utilizata foarte usor, fara a avea cunostinte avansate.