Windows 7 a venit la pachet cu un feature excelent, si anume posibilitatea de a adauga in Taskbar shortcut-uri catre aplicatii (Pin to taskbar).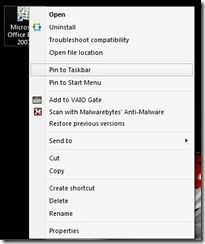 Daca ati devenit dependent de acest feature si doriti sa puteti adauga in taskbar shortcut-uri si catre alte tipuri de fisiere, urmati cu atentie instructiunile urmatoare.
Cum putem adauga shortcut-uri catre orice tip de fisier in Windows 7 Taskbar?
creati un shortcut pe Desktop al fisierului pe care doriti sa-l adaugati in taskbar dand click-dreapta pe acesta si selectand Send to > Desktop (chiar daca respectivul fisier se afla pe desktop, shortcut-ul este necesar pentru a-l putea adauga in taskbar)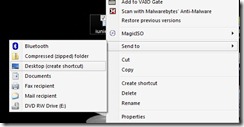 apoi stergeti denumirea de shortcut si extensia din shortcut-ul creat.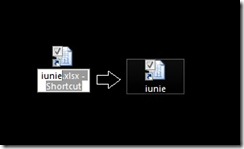 creati un fisier text (Notepad) si dati-i numele fisierului pe care doriti sa il adaugati in taskbar; apoi schimbati extensia acestuia din .txt in .exe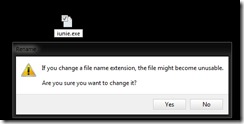 dati click-dreapta pe fisierul .exe creat si selectati Pin to taskbar; apoi dati click-dreapta pe shortcut-ul din taskbar si inca o data click-dreapta pe numele acestuia si selectati Properties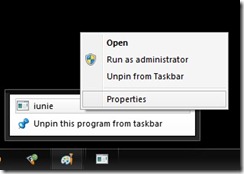 in tab-ul General copiati locatia shortcut-ului adaugat in taskbar (aceasta va fi C:Users[user-name]AppDataRoamingMicrosoftInternet ExplorerQuick LaunchUser PinnedTaskBar, unde [user-name] este numele userului dvs.)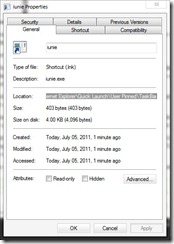 deschideti un Windows Explorer si dati Paste in address bar locatiei shortcut-ului adaugat in taskbar
in folderul deschis inlocuiti shortcut-ului fisierului .exe creat cu shortcut-ul fisierului pe care doriti sa-l adaugati in taskbar (Copy/Paste apoi Copy and Replace).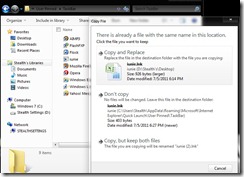 apoi dati click pe shortcut-ul din taskbar pentru a deschide fisierul dorit
Nota: Dupa primul restart, iconul shortcutului din taskbar se va modifica in iconul fisierului pe care acesta il va deschide.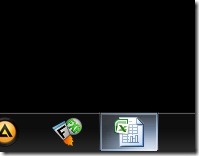 STEALTH SETTINGS – Pin any file type in Windows 7 Taskbar
Adauga orice tip de fisier in Windows 7 Taskbar