Daca aveti cateva adrese web preferate pe care doriti sa le aveti la indemana, dar nu vreti sa le setati ca homepage din diverse motive (poate ca nu vreti sa le vizitati chiar atat de des sau preferati sa tineti un motor de cautare ca homepage), sugestia noastra ar fi sa creati shortcut-uri catre acestea pe Desktop. Sau de ce nu, chiar sa le fixati in TaskBar, in felul acesta putand sa le deschideti cu un simplu click ori de cate ori aveti nevoie sau sa le ignorati cand nu aveti motive sa le vizitati.
1. Cum sa creati shortcut catre paginile web favorite:
dati click-dreapta pe Desktop (orice portiune libera a acestuia) si selectati New din meniu, apoi Shortcut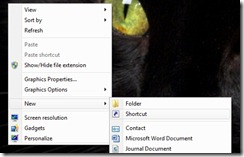 in functie de browserul preferat cu care navigati pe internet (sau probabil preferati alt browser decat cel default pentru a deschide respectivele pagini web), tastati in campul de sub Type the location of the item, intre ghilimele, calea catre respectivul browser (adica catre folderul unde acesta este instalat, exemplu C:Program FilesOperaopera.exe), apoi tastati adresa paginii web pe care doriti s-o deschideti cu ajutorul acestui shortcut (de exemplu https://stealthsettings.com)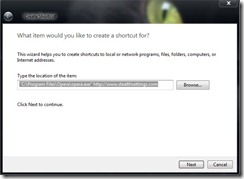 click Next, alegeti un nume pentru respectivul shortcut apoi dati click pe Finish (daca doriti, puteti sa schimbati si icon-ul intr-unul personalizat)
2. Pentru a adauga shortcut-ul unei pagini web in Windows 7 Taskbar este de ajuns sa trageti respectivul shortcut peste taskbar (drag&drop) sau sa dati click-dreapta pe  acesta si sa selectati Pin to Taskbar din meniu.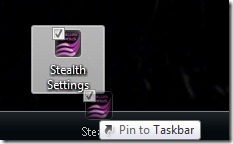 Et voila! De acum puteti deschide o pagina web direct din taskbar, fara a fi nevoie sa o setati ca homepage. ;)
Cum adaugam shortcut-ul unei adrese web in Windows 7 Taskbar