Daca va aflati in situatia sa doriti sa dezactivati/reactivati Folder Options (din diverse motive, printre care cel mai important este intimitatea/restrictionarea accesului altor useri la fisierele personale), atunci cu siguranta aveti nevoie de instructiunile urmatoare:
Dezactivati/Reactivati Folders Options prin intermediul Local Group Policy Editor
deschideti Local Group Policy Editor (gpedit.msc) si dati click (pe rand) pe User Configuration->Administrative Templates->Windows Components->Windows Explorer (panoul din partea stanga a ferestrei)
in panoul din dreapta, dati click-dreapta pe Removes the Folder Options menu from the Tools Menu si selectati Edit (sau Properties)
in fereastra deschisa, selectati Enabled si apoi dati click pe OK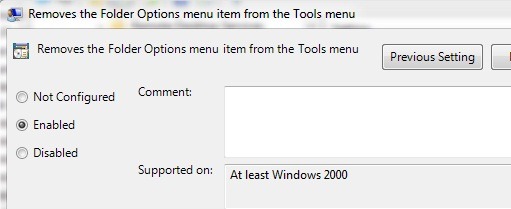 pentru a reactiva Folder Options, selectati ori Disabled ori Not Configured si apoi dati click pe OK.
Daca va numarati printre utilizatorii de editii Windows Home, probabil stiti deja (sau aflati acum) ca nu aveti posibilitatea sa accesati Group Policy Editor. In acest caz, puteti dezactiva/reactiva Folders Options doar prin intermediu registrilor de sistem.
Dezactiveaza/Reactiveaza Folders Options prin intermediul Registry Editor (editorul de registri)
deschideti Registry Editor (tastati regedit in Search-ul din Start Menu si dati Enter), apoi urmati calea HKEY_CURRENT_USERSoftwareMicrosoftWindowsCurrentVersionPoliciesExplorer (daca nu gasiti Explorer, dati click-dreapta pe Policies, selectati New apoi selectati Key, tastati Explorer si dati Enter)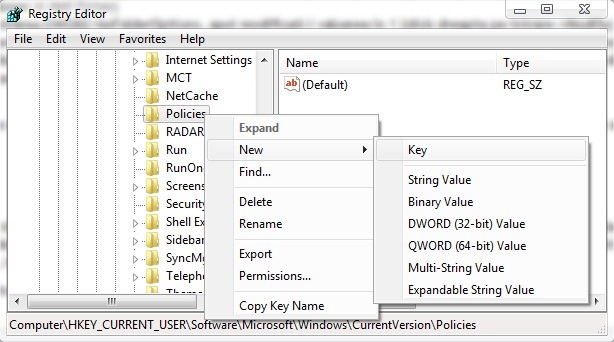 in panoul din dreapta creati intrarea DWORD (32-bit) NoFolderOptions, apoi modificati-i valoarea in 1 (click-dreapta pe intrare->Modify)
pentru a reactiva Folder Options stergeti intrarea NoFolderOptions (urmati aceeasi cale pe care ati urmat-o pentru dezactivare)
apoi mergeti la HKEY_LOCAL_MACHINESOFTWAREMicrosoftWindowsCurrentVersionPoliciesExplorer si stergeti din panoul din dreapta intrarea NoFolderOptions (in cazul in care aceasta exista; daca nu, inchideti registrii)
Daca nu aveti experienta in folosirea registrilor, va recomandam sa downloadati urmatoarele fisiere.reg si apoi sa dati dublu-click pe acestea pentru a dezactiva sau reactiva Folder Options:
Download DisableFolderOptions.
Nota: Inainte de a modifica registrii sistemului, va recomandam sa faceti un back-up al acestora pentru a evita orice consecinta neplacuta care ar putea surveni in urma unor eventuale greseli (deschideti regedit, dati click pe File in coltul din stanga-sus si selectati Export din meniul afisat. Alegeti o locatie – de preferat la indemana – unde salvati fisierul .reg, iar in caz de eroare, dati dublu-click pe acest fisier pentru a repara registrii).
Acest tutorial nu a fost testat pe Windows XP, asadar nu recomandam folosirea metodei registrilor de pe nici o editie XP.